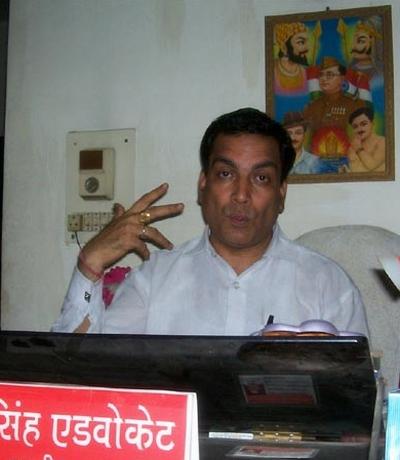 Moments after a court in Delhi awarded the death penalty to the four men convicted of the rape and murder of a 23-year-old paramedic student, a man emerged from the court and in one statement to the media, managed to deflect attention from the case that has shaken the nation, and from the issue of woman's safety, to himself.
Ajay Prakash Singh, the 41-year-old defence lawyer of two of the rapists, Akshay Thakur and Vinay Sharma, has since gone on to become the symbol of everything women in India are struggling against.
After the sentencing, in response to a question from the media, Singh declared, "If my daughter was having premarital sex and moving around at night with her boyfriend, I would have burnt her alive. I would not have let this situation happen. All parents should adopt such an attitude."
As the television cameras kept returning to him, the moral policeman in him kept getting bolder and bolder.
A few days later, he repeated the warning, "If my daughter or my sister (incidentally, he has both) spoils her character, I will definitely take her to my farmhouse and in front of my entire family, pour petrol on her and burn her. Main yeh himmat aur jazba rakhta hoon (I have the courage and the conviction to do this)."
In another interview, he advised women, "Wear decent clothes. Treat your body as a treasure. The way you keep your treasure safe in your purse, in a box, in an iron safe, in a locker, the same way protect your body."
This must have been music to the ears of the country's self-appointed moral police.
Only this week, a young man was beheaded in a village in Rohtak by the family of the woman he was in a relationship with. The woman too was lynched by her family.
Now, if such people land in trouble they know who to turn to for legal advice. Here's a defence lawyer who on national television not just said that the onus of a woman's security lies solely on her and her parents, he has also gone to the extent of making his client's battle his own, and in the process taken on even the judge.
What more can an accused ask for in his lawyer? And what better publicity can Singh hope for?
Singh, who holds a bachelor's degree from Meerut University and did law from Shia College in Lucknow, has called the death penalty for the rapists a "political judgement" -- a statement for which he could invite a contempt notice, says Surya Prakash Khatri, chairman of the Bar Council of Delhi, which has taken suo motu action against Singh for his "professional misconduct" and "misogynistic statement", and issued a show-cause notice asking him to reply by October 11.
Ask Singh about his statement and he says, coming across as mellower than he does when the cameras are on, "It was in response to a disgusting and very personal question."
And what was that question? "Meri behen (my sister) I cannot even repeat it," he replies.
"You know how the electronic media is. They used only part of what I said without giving the context it was said in," he says
Even so, how does he justify threatening, on television, his sister and his daughter with appalling consequences if they did not lead an 'honourable' life?
"This is my mother's version. These are her notions of keeping the household disciplined," he says.
His decision to defend the rapists, too, he says was made on his mother's aadesh (order) which he says he always follows.
Now, with the Delhi Bar Council unanimously deciding to issue a notice against him, he says, "The bar council is my mother. I am its agyakari (obedient) son. I will present all facts before it and honour its orders."
Under the Advocate Act, the maximum penalty is that a lawyer's licence to practise at the Bar can be revoked, says Murari Tiwari, secretary, Bar Council of Delhi.
Else, he can be suspended for a particular period.
"The statements Singh made defame the legal profession," says Tiwari.