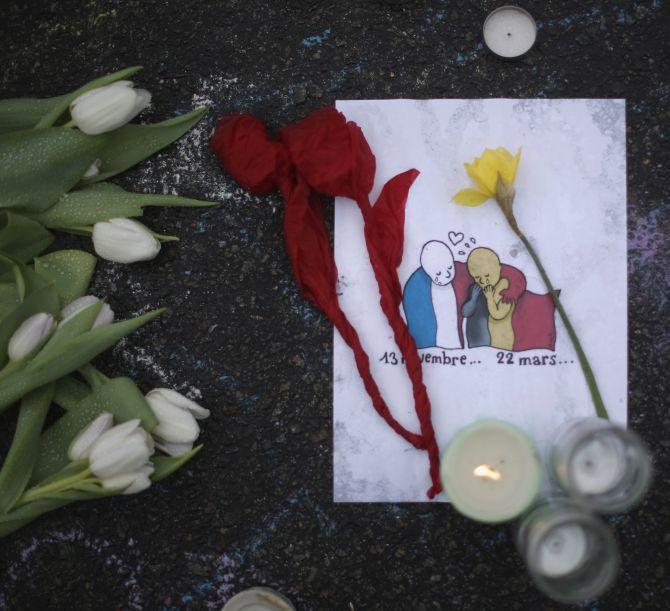 While others fled after hearing explosions ripping through the central hall at the Zaventem Airport in Brussels on Tuesday, there was one who did the very opposite, he stayed back and helped others to safety.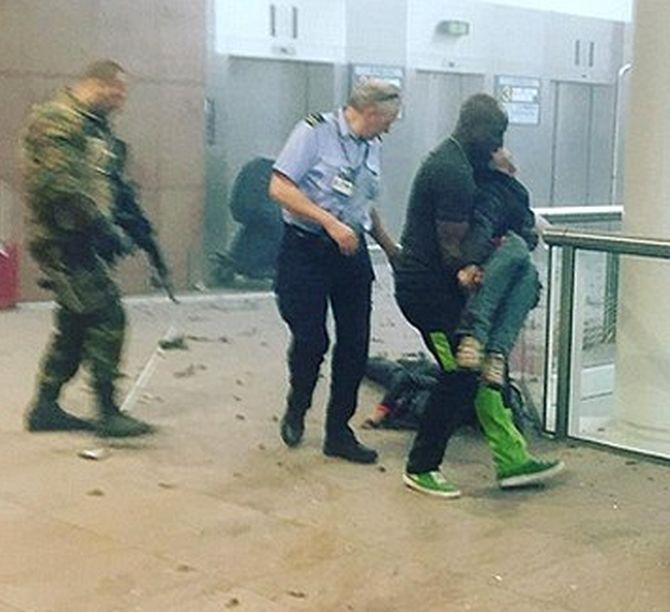 IMAGE: A person is carried to safety out by Alphonse Youla (in green) as troops helped the injured and secured the area after the explosions in the terminal building. Photograph: Reuters TV
Alphonse Lyoura, an airport baggage security officer, did not flee the scene when two bomb blasts erupted in the departures area on Tuesday but began to help the injured.
After hearing the first bomb explode while he was wrapping bags, Lyoura stayed where he was and heard another explosion about two minutes later.
He said he saw people whose legs were destroyed in the blast or had sustained awful injuries.
"I helped at least six or seven wounded people. We took out some bodies that were not moving. It was total panic everywhere," he was quoted as saying.
Lyoura told Reuters another five people he carried out seemed dead.
His bravery didn't go unnoticed on the Internet. One woman highlighted Lyoura's actions, while others took to Twitter to applaud his bravery.
One user wrote, "Alphonse you've just exposed their failure. If one of us still selflessly help others, they haven't won. They will never win."
Another Twitter user said terrorism showed "who the real heroes were". "Terrorists create heroes. The hero doesn't care about your religion, the hero is just a good human being."
The airport worker isn't the only hero to emerge from the attacks.
City residents who live near metro stations and airports offered accommodation to anyone affected, along with the hashtags #PorteOuverte and #ikwilhelpen, while at Maelbeek metro travellers helped each other out to the open air.
The official official death toll from both attacks stands at 31, but this is likely to rise.
At least 20 people were killed in the attack on the metro after 11 were killed at the airport.