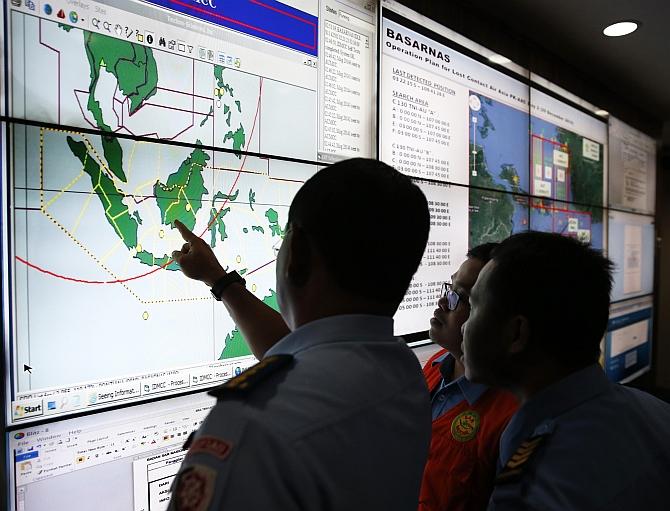 Image: Military and rescue authorities monitor progress in the search for AirAsia Flight QZ8501 in the Mission Control Center inside the National Search and Rescue Agency in Jakarta. Photograph: Darren Whiteside/Reuters

The search in the Indonesian waters for the missing AirAsia flight QZ8501 carrying 162 people met a dead end on Monday.

Objects spotted by an Australian search aircraft was not from the AirAsia plane, Indonesia's vice president said. "It has been checked and no sufficient evidence was found to confirm what was reported," Jusuf Kalla told a press conference at Surabaya airport in Indonesia.
An Australian plane had spotted some objects near Nangka island, 700 miles from the location where the plane lost contact.
The search now is focused on two oily spots spotted by an Indonesian helicopter in the eastern part of Belitung Island spotted about 105 nautical miles east of Tanjung Pandan -- much closer to the point of last contact, Metro TV reports. Samples of oil would be collected and analysed to see if they are connected to the missing jet.
The missing plane was en route from Indonesia to Singapore when it disappeared on Sunday morning. The search for the jet was immediately launched with vessels and aircraft from Indonesia, Singapore and Malaysia but nothing was reported to be found before nightfall.
As search operations resumed on Monday a rescue official said that the plane was suspected to be at the bottom of the sea.
With inputs from ANI