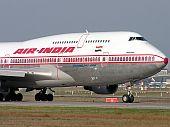 Air India pilots have threatened not to operate flights to Kabul if the national carrier does not give "clear-cut guidelines" for flying into Afghanistan as it directly affects the safety of crew and passengers.
The Indian Commercial Pilots Association (ICPA) has said that if the pilots do not get any suitable reply, it would be 'forced to ask our members not to operate flights in these unsafe conditions' to Kabul.
In a letter to Executive Director (Operations) of Air India, ICPA General Secretary Captain S Sabu said that the political situation in Kabul has been deteriorating and that the NATO forces have launched a major offensive against insurgents in the region.
National Aviation Corporation of India Limited (I) (erstwhile Indian Airlines) is the only Indian carrier registered with IATA member operating into Kabul.

Pointing out the shortcomings, he said, the airspace (over Kabul) "is not free of conflicting traffic resulting in frequent occurrences of traffic advisories and resolution advisories. Also the air traffic control is poor."
"No special procedure for unlawful interference has been devised after the Kandahar hijack of IC-814. Also there is no clear-cut guidelines whether low visibility take off is permitted or not from Kabul," Sabu said.

Apart from this, he said, "no 'Communication Failure' procedure has been circulated to the flight crew nor is it mentioned in the Jepessen emergency chapter".
No topographical map of the region has been provided to the crew as being provided in Jammu, Srinagar and Northeast, which is a requirement, he claimed.
'Everybody is flying to Kabul'
The top brass of Air India, however, has ruled out the possibility of discontinuing its flights to Kabul.
Arvind Jadhav, chairman and managing director of Air India, told media persons on the sidelines of India Aviation 2010 in Hyderabad that there was no problem of security as far as flying in to Kabul was concerned.
"This is a issue of prestige not only for national carrier but also for the country. We will have to support the lifeline. India supports Afghanistan. In such a situation, we always try to ensure that entire flight is safe," he said.
On the ICPA's complaint that there were no standard operating procedures laid down so that the flight crew could respond effectively in a hijack situation, Jadhav said the required procedures were being followed. "Everybody is flying to Kabul," he said.
"Everybody knows what it is. It is an issue which they have brought to our notice and our officials are attending to it", he said.

The National Aviation Company Limited, which operates Air India, has also rejected the demand for discontinuing the flights to Kabul.

"The points raised by the ICPA with regard to operations to Kabul are not tenable. All procedures and safety requirements laid down by the DGCA are being complied with for the said operations. As such Air India has been operating safely to Kabul for many years without any untoward incidents and safety violations," said a company statement.
"It is also true that many other airlines are also operating to Kabul safely with similar type of aircraft (Category-C) for many years," the statement said.
Additional Reportage: PTI