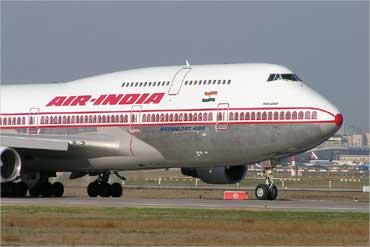 Up to five passengers received "minor" injuries during evacuation when a wheel of an Air India plane with 159 people onboard caught fire while landing under emergency conditions at the Indira Gandhi International Airport following hydraulic failure, airport sources said.
"Air India flight AI 405 from Varanasi to Delhi had an emergency landing as the pilot reported hydraulic failure at around 1916 hours. However, a small fire was seen in the undercarriage of the aircraft after landing which was quickly doused," they said.
"All passengers were evacuated safely, however, some 4-5 of them sustained minor injuries during evacuation," sources said.
Air India said in a statement that the incident, which happened around 19:58 hours, was caused by a hydraulic leak, but claimed there was no fire and none of the 153 passengers and six crew were injured during evacuation.
"Air India flight 405 Varanasi-Delhi had an emergency landing due to hydraulic leak. This resulted in few sparks at the nose wheel. There was no fire. All 146 passengers were evacuated safely and taken to terminal building. No passenger was injured," the airliner said.
Runway 27, where the aircraft had landed, has been cleared, it said, adding all passengers were being served dinner and taken care of.