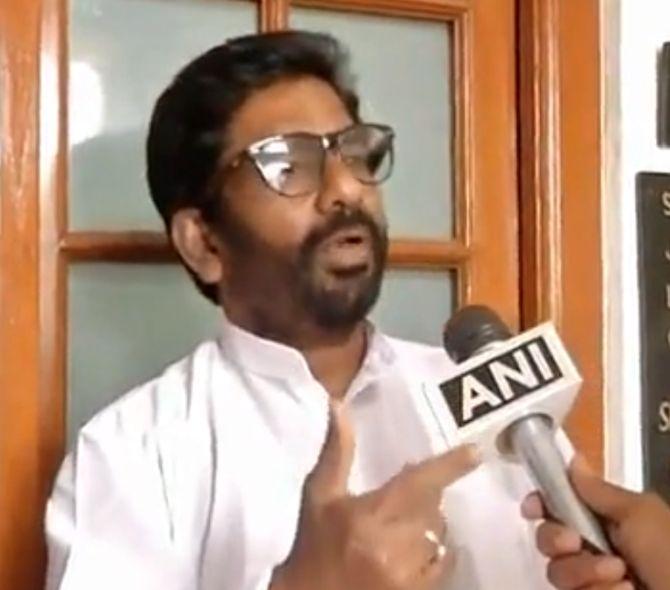 Hardening its stand further against Shiv Sena MP Ravindra Gaikwad, Air India on Tuesday cancelled two tickets booked by him on Delhi-bound flights, days after domestic carriers barred him from flying on their aircraft for assaulting an AI staffer.
Gaikwad booked a seat on flight AI 806 from Mumbai to Delhi for Wednesday earlier Tuesday through his staff which was promptly cancelled by the airline. This was followed by another attempt to book a seat on AI 551 from Hyderabad to Delhi, again for Wednesday, which was cancelled, too.
Both these bookings were made on open tickets which were issued to Gaikwad, who has been declared persona non grata by domestic airlines, before the ban was imposed on him, a AI source said.
The airline is now ascertaining how many open tickets and frequent flyer tickets have been issued to the MP from Osmanabad in Maharashtra so that those could be cancelled, the source said.
Earlier, private TV news channel Times Now said the MP had booked a berth on Mumbai-New Delhi Rajdhani for Tuesday. The channel also showed the reservation chart pasted on coach A 3 of the train parked at Mumbai Central Railway Station which had his name. However, Gaikwad did not turn up, triggering speculation he could board the train at some other station on way to the national capital.
The Shiv Sena MP has been barred by all major domestic airlines for assaulting an elderly duty manager of the national carrier last Thursday in an unprecedented step in Indian aviation history.
Unrepentant, Gaikwad brazened it out and was seen on national TV for two days boasting about the way he assaulted the Air India employee.
A day after the incident, the national carrier had cancelled the return ticket of the MP and private airliner IndiGo followed suit, forcing him to take a train to Maharashtra.
The issue also figured in Parliament on Monday, with Shiv Sena MPs creating an uproar, contending it violated the Constitution and the law and demanding lifting the ban.
However, Civil Aviation Minister P Ashok Gajapati Raju criticised the conduct of Gaikwad, saying, "I never in my wildest dreams thought that an MP will get caught in such an incident". He said violence of any kind on an aircraft can be "disastrous".
An FIR has been registered against him on the basis of the complaint lodged by Air India for repeatedly hitting 62-year-old Duty Manager R Sukumar with sandals on a Pune-Delhi flight after it landed. The MP was angry at not being given a business class seat though he had boarded an all-economy flight.
Air India in a statement asserted that "the ban is still in place".
Sources said the airline has also issued a non-acceptance order to station managers and booking offices informing them of "restriction on acceptance and travel of potentially unruly and unsafe passengers is being followed on Air India flights for Ravindra Gaikwad till further notice".
The order, dated March 26, was issued in view of "various risk to safety, security of airline employees, fellow passengers and threat to company property", sources added.