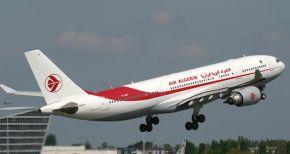 The wreckage of the Air Algerie plane that was reported crashed ober Niger with 116 people onboard has been found in Mali near the Burkina Faso border, an army offical has said. Flight AH5017 was flying from Burkina Faso to Algiers across the Sahara when Algerian aviation authorities lost contact with the aircraft, about 50 minutes after take-off.
The passenger list reveals there were 51 French, 27 Burkina Faso nationals, eight Lebanese, six Algerians, five Canadians, four Germans, two Luxemburg nationals, one Swiss, one Belgium, one Egyptian, one Ukrainian, one Nigerian, one Cameroonian and one Malian. In addition, the six crew members aboard the flight were Spanish, according to the Spanish pilots' union.
"I can confirm that it has crashed," an Algerian official said.
The Air Algerie flight disappeared over northern Mali, France's transport minister said. The passenger airliner was last seen at 0155 GMT, when it was flying over Gao in Mali. Gao is about 300 miles from Niamey, Niger, where it has been reported that the plane came down.
The city is not on the flight route for the plane but officials said it had been diverted due to poor visibility. The plane was asked to change route because of a powerful sandstorm, the Burkina Faso transport minister said.
"The plane was not far from the Algerian frontier when the crew was asked to make a detour because of poor visibility and to prevent the risk of collision with another aircraft on the Algiers-Bamako route,"an Air Algerie source said. "Contact was lost after the change of course."
Two French fighter jets based in West Africa have been deployed to try and locate the missing plane, a French army spokesman has said.
The downing of the Air Algerie plane comes a week to the day after the Malaysia Airlines MH17 crash in which 298 people died.