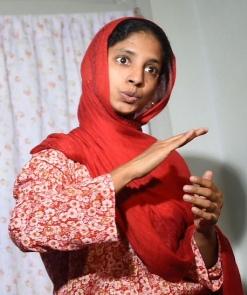 The report of the DNA tests carried out to determine the parentage of 23-year-old Geeta, the deaf and mute girl who returned from Pakistan after being separated from her family over a decade ago, has been submitted to the Ministry of External Affairs.
The Ministry had asked AIIMS to collect samples for DNA tests to confirm if Janardhan Mahato, who claims that Geeta is his first born Heera, is indeed her father.
"The DNA tests were carried out at the AIIMS Forensic lab, the report of which was submitted to MEA yesterday evening," a senior doctor at AIIMS said.
The AIIMS authorities, however, refused to divulge details about the report.
When contacted, the MEA spokesperson said he did not know what was in the report.
Geeta, who returned from Pakistan after a gap of 15 years, had refused to recognise the Mahato couple from Bihar whom she had identified as her family through photographs when she was in Karachi. She is currently staying at an institution in Indore for hearing-impaired people.
External Affairs Minister Sushma Swaraj had stated that Geeta had refused to identify the Mahatos as her family.
"If the DNA samples does not match with the samples of the Mahato couple, then government will start afresh the process to find her parents," she had said.
Geeta, now 23, was reportedly just 7 or 8 years old when she was found sitting alone on the Samjhauta Express by the Pakistan Rangers 15 years ago at the Lahore railway station.
She was adopted by the Edhi Foundation's Bilquis Edhi and lived with her in Karachi. Bilquis and her grandchildren, Saba and Saad Edhi, accompanied Geeta.
Her story came to light after the release of Salman Khan starrer 'Bajrangi Bhaijaan' in which the hero unites a girl separated from her Pakistani mother who was visiting India.