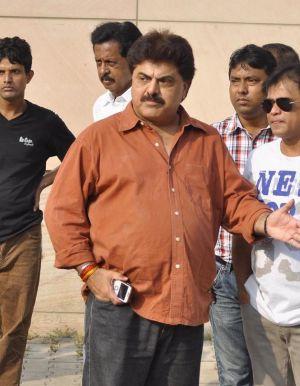 Filmmaker and censor board member Ashoke Pandit has triggered a controversy for his derogatory tweet on Karan Johar, who hosted the AIB Knockout YouTube video, and his mother who was in the audience.
Pandit was slammed on Twitter for his distasteful tweet by many. @desktopdiarist, for instance, tweeted his outrage, saying, 'Henhji, who will censor this censor Board clown Ashok Pandit-ji? Did they coin the B in #AIB after listening to him for 10 mins, ji?'. Another tweet from @RanaAyyub said '@ashokepandit intellectual bankruptcy , ashok?' @IAmTathagat wrote 'The best thing about #AIBRoast is that it offended the people who weren't mocked and people who were mocked aren't offended'.
Pandit on Tuesday tweeted his support to the probe on the AIB roast, saying, "I support #MaharashtraGovts inquiry into #AIB a porn show on stage. Did the police give permission to #AIB even after they knew what B stands for? Was the script of #AIB which was a stage play approved by the authorities which approve plays?"
The viral AIB video which has Karan Johar as the 'Roast master' subjects actors Ranveer Singh and Arjun Kapoor to jokes on their professional and personal life.
Maharashtra Culture Minister Vinod Tawde on Monday had told reporters that "officials of the Culture Department will examine the (AIB show) videos for the content. If found vulgar, an action will be initiated."
After announcing an inquiry into a comedy show featuring filmmaker Karan Johar and actors Arjun Kapoor and Ranveer Singh for obscene language and content, the Maharashtra government has said that it will only check if AIB had secured appropriate clearances.
Also, Maharashtra Culture Minister Vinod Tawde said the government does not intend to do any "moral policing."
"On #AIBRoast, will only enquire if the AIB had taken appropriate certificate. No moral policing... if they are allowed by law, I can't stop them," Tawde tweeted.
The minister had announced the inquiry following a police probe into a complaint against the participants for allegedly using "filthy and abusive language" during the event called AIB Knockout, a comedy show, held in December last year at Worli (the videos of the show were uploaded on YouTube recently).
According to the written complaint by Akhilesh Tiwari, president of Brahman Ekta Seva Sanstha in Mumbai, filed at Sakinaka police station yesterday, Karan Johar, Ranveer Singh and Arjun Kapoor, along with other performers, had allegedly passed abusive and offensive remarks against one another and at the audience present there, police said.