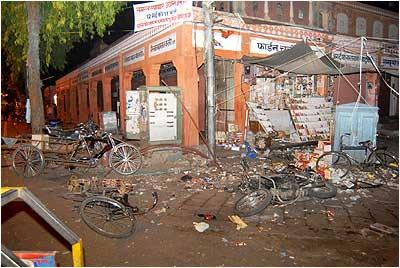 The Ahmedabad crime branch sleuths have arrested a man who was wanted since nine years in connection with the Ahmedabad serial bomb blasts case from Kozhikode in Kerala, a senior official said on Thursday.
Shoaib Pottanikal, 49, was arrested by a team of Ahmedabad Crime Branch sleuths, the Kerala Police and intelligence officials from Kozhikode soon after he landed at the airport there on Wednesday, Joint Commissioner of Police J K Bhatt told reporters.
"Shoaib, one of the 18 absconding accused in the 2008 Ahmedabad serial bomb blasts case, was arrested from Kozhikode airport after he landed there from abroad. He had escaped overseas after the blasts, following which a Red Corner notice was also issued against him," Bhatt told reporters.
He said Shoaib knew Sainuddin and Sarfuddin, who were arrested for allegedly providing electronic chips used in making bombs for the 2008 blasts, and helped the operatives of Indian Mujahideen and banned outfit SIMI get in touch with them with the intention to make bombs.
Yasin Bhatkal, one of the main accused in the case, had also told the crime branch sleuths about Shoaib's role after he was brought in Ahmedabad on a transfer warrant from Tihar jail on March 31 this year, Bhatt said.
Shoaib hails from Malappuram in Kerala where his father has a rice mill. He comes from a well-to-do family, the JCP said.
However, the police official did not disclose where Shoaib had escaped and from where he was coming to India when he was arrested, saying it could not be revealed due to the ongoing investigation.
"Since last six to eight months we had stepped up the lookout for the absconding accused, including Shoaib. The local police and intelligence officials were also keeping a tab on Shoaib's close friends and relatives.
"Upon learning that he was expected to come to his hometown and land at Kozhikode airport, a team of crime branch officials went there and with the help of local police, we arrested him," Bhatt said.
So far, 79 accused have been arrested in the case and a chargesheet has been filed against them.
With Shoaib's arrest, the number of people being held has gone up to 80.
The Ahmedabad crime branch had recently brought Bhatkal, one of the main operatives of Indian Mujahideen, for questioning in connection with the 2008 serial blasts case.
Bhatkal is presently in the custody of the National Investigation Agency.
Eighteen blasts had rocked the city on July 26, 2008 in which 56 people were killed and over 150 injured.
The crime branch sleuths produced Shoaib before a metropolitan magistrate court in Ahmedabad, which remanded him in police custody for nine days.
The crime branch had sought his remand for 30 days, saying he was involved in a serious terrorist attack and was arrested for helping members of terror outfits like Indian Mujahideen and SIMI to procure electronic chips used to make bombs that killed 56 persons.
Now that he has been arrested, the investigating officers need to interrogate him on how he served as a link between the manufacturers of the chips and the main accused in the case and other aspects of investigation like where he stayed when was abroad, it said.
Shoaib's lawyer said there was no need for his remand as most of the accused have been arrested and a charge sheet filed in the case.
© Copyright 2021 PTI. All rights reserved. Republication or redistribution of PTI content, including by framing or similar means, is expressly prohibited without the prior written consent.