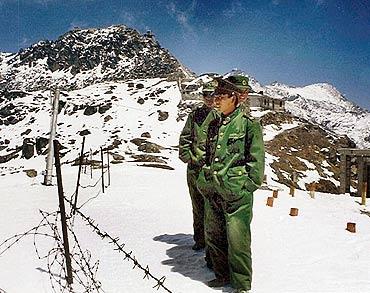 Ahead of Chinese Premier Wen Jiabao's New Delhi visit, India and China on Monday explored ways to resolve the vexed boundary issue as the special representatives of the two countries held the 14th round of border talks in Beijng.
The two designated officials -- National Security Adviser Shivshankar Menon and Chinese State Councillor Dai Bingguo -- held a lengthy meeting to find ways to resolve differences over demarcation of the 4000-km-long border, especially at Aksai Chin in the Ladakh sector and Arunachal Pradesh, which Beijing claims as part southern Tibet.
Menon, a specialist in Chinese affairs, is familiar with the top echelons of the leadership of this country, as he had served as India's ambassador to Beijing and was also a foreign secretary in the past.
Menon and Dai, who are also friends, exchanged pleasantries, reminiscing about their old association before settling down for the talks. Welcoming the national security adviser, Dai, in his opening remarks, said, "I know you are directly involved in establishing the special representatives mechanism."
It was set up in 2003 and reflected on Menon's efforts as ambassador to Beijing at that time. He also thanked the NSA for "recommending" his name as the Chinese special representative for the boundary talks.
"But you would have never thought you will come as India's SR for talks here," Dai said. Applauding Menon's contribution for the betterment of Sino-India ties, he said, "You are not only a senior Indian diplomat but also a famous expert on China. You are also a very good friend of China. I am convinced that as an SR and NSA you will make your unique contribution to further the relations and settlement of border issues between the two countries."
Responding to Dai's remarks, Menon said, "In India we believe in karma." Later, the two met again over a banquet hosted by Dai in honour of Menon. The two diplomats are scheduled to hold the final round of the two-day talks on Tuesday.
The 13th round of boundary talks was held in New Delhi in 2009 between the then NSA M K Narayanan and Dai, which ended without much progress. India and China have been holding talks since 1980 to work out a formula to resolve the differences.
The process got an impetus after the two countries agreed to establish the special representatives' mechanism. In the process, the two countries also signed agreements in 1993 and 1996 to maintain peace and stability along the border areas, besides inking a political guiding principle on demarcation of the boundary in 2005.

In the past several years, some clarity has emerged in the Chinese stand on the border issue, with Beijing officially acknowledging Sikkim as part of India, which was reflected in the recently released official online map in the capital. Officials on both sides admit that it is a daunting task to find an acceptable formula to the boundary issue without the improvement of political and strategic relations between the two countries, overcoming the mistrust generated by China's close friendship with Pakistan.
Indian officials are hopeful that next month's visit of Wen to India -- taking place in the backdrop of a fruitful meeting meetings between him and Prime Minister Dr Manmohan Singh in Hanoi, candid talks between External Affairs Minister S M Krishna and his counterpart Yang Jiechi in Wuhan followed by a strategic dialogue between Foreign Secretary Nirupama Rao and Chinese Vice Foreign Minister Zhang Zhijun -- would help turn a new page in the bilateral ties.
India's major expectation from Wen's visit is that Beijing would roll back its decision to issue stapled visas to residents of Jammu and Kashmir. The Chinese policy culminated in denying visa to the chief of Indian Army's northern command, B S Jaswal, prompting New Delhi to put on hold all defence exchanges with China.
The Menon-Dai meeting is being regarded as the last high- level meeting before Wen's India visit, which is expected to take place in the second week of next month. However, much to the discomfiture of India, the Chinese premier would be proceeding to Pakistan also to reinforce the close strategic ties between the two countries.

Image: Chinese soldiers stand next to barbwires at the Indo-China border at Nathula Pass in the north eastern Indian state of Sikkim | Photograph: Reuters
© Copyright 2020 PTI. All rights reserved. Republication or redistribution of PTI content, including by framing or similar means, is expressly prohibited without the prior written consent.