When most nonagenarians are content to pass their time in their neighbourhood's gardens, Raj Kumar Vaishya, 96, has enrolled himself in the Patna-based Nalanda Open University to pursue his lifelong dream of earning a masters in economics, reports MI Khan.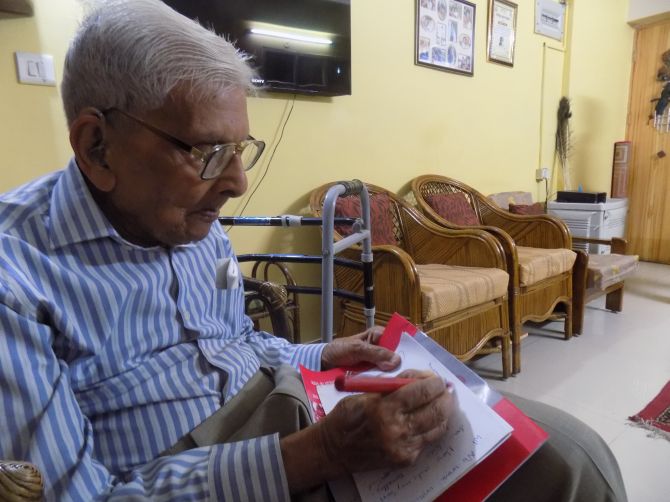 The 96-year-old Vaishya wants to tackle the large economic crisis that India is facing. Photograph: M I Khan
It was my old dream to study economics, to understand problems facing by the people, society and the country. The idea is not to get a degree but to study economics. There are many PhD students who have superfluous knowledge," says Ram Kumar Vaishya, who retired in 1980 as general manager after having served for over three decades in a private firm at Koderma in Jharkhand.
With this in mind, the 96-year-old has enrolled for an MA in economics with the Nalanda Open University, saying he wanted to study economics to understand why China has suddenly devalued its currency. He also wants to know more about how to provide relief to people from rising prices and why the country has failed to solve the major problems of poverty and unemployment.
Vaishya is also interested in budgets and related financial minutiae. "I failed to understand where the government will get the money," he says referring to Prime Minister Narendra Modi's announcement of a special package of Rs 1.25 lakh crore to Bihar.
Many such questions tumble out of Vaishya's mind. "If I am able to give one new idea to the country in the field of economics, I will think I will have lived a worthwhile," he states.
The perennially happy Vaishya lives with his retired son and retired daughter-in-law at an apartment in posh Rajendra Nagar Colony in Patna for last eight years or so after his wife died in Bareilly in Uttar Pradesh. He shifted from Bareilly to Patna since he had no one to look after him.
"I am happy to say that the environment is conducive for studying in my son's home. My son and daughter-in-law will teach me math and statistics," Vaishya says, referring to his second son Santosh Kumar, who retired from the National Institute of Technology, Patna, and his daughter-in-law Bharti S Kumar, who is a retired professor of Patna University.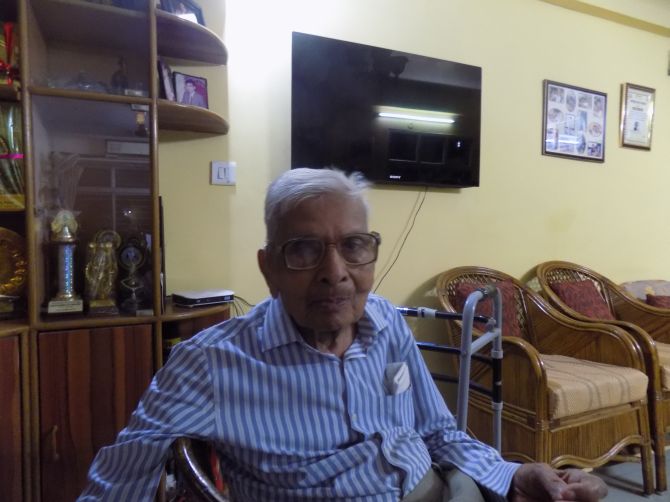 Vaishya also took part in the freedom struggle and has heard the likes of Gandhi, Bose and Nehru. Photograph: M I Khan
When asked of the possibility of failure, Vaishya quips, "Success and failure in exams is only one thing in life." "Although I do hope that I will pass the examination and have decided to devote two hours in the morning and two hours at night to study my syllabus," he adds.
Vaishya made it clear that he will not pursue a PhD upon completing his masters. Nalanda Open University registrar S P Sinha said when the varsity authorities were informed that Vaishya is keen to join a post-graduation course, most found it unbelievable.
"But when we were informed that Mr Vaishya was a well educated man, we decided to send an NOU team to his residence keeping his old age, with a view to enroll him," Sinha said.
He said the varsity salutes Vaishya's zeal. "He has become an inspiration for all of us. His passion for education will send a positive message in society, particular among senior citizens," Sinha said.
Vaishya was born on April 1, 1920, in Bareilly and did his matriculation from a government high school in 1934 and completed his graduation from Agra University in 1938. He also became a Bachelor of Law in 1940. He failed to pursue his post-graduation due to increasing responsibilities.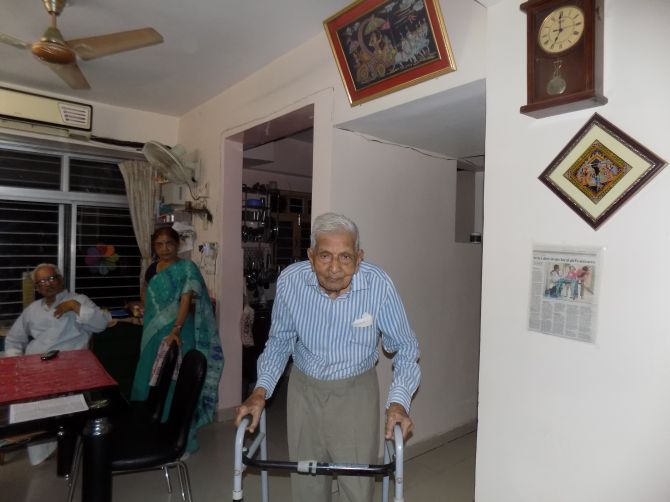 Vaishya finds trouble walking but is otherwise as fit as a fiddle. Photograph: M I Khan
"I love mushairas and once used to stay up the entire night to hear them. But not anymore," he says with a sigh.
"As one approaches old age, one should pick up a hobby. I regularly read books, newspapers, magazines and watch television serials, including popular historical TV serials like Jodhaa Akbar, Razia Sultan and Maharana Pratap," says Vaishya.
A confident and upbeat Vaishya says he can read without glasses and can write fluently in both Hindi and English. "I only take the help of a walker after I fractured my back few years ago," he says.
"My secret to a long life is simple living and leaving everything to God. I accept everything as it happens. Today tension kills more than anything else. Nearly 40 years ago, when my elder son died, I assuaged myself it to be God's wish. No doubt it shocked me; after all, I am a father. I have decided to look after his children and wife," Vaishya reminisces.
"I am vegetarian and love to eat roti-dal-chawal-dahi and dudh. I avoid fried foods and consume less food than whatever is required. Overeating kills more people than starvation. I consume only three rotis a day -- one in the morning, one for lunch and one during dinner. I drink milk during morning and night; take some curd in launch and fruits," he explains.
Although Vaishya took part in the country's freedom struggle as a young student, he never applied for the freedom-fighters' pension.
"If I wanted I could have been getting a freedom-fighter's pension. But I decided not to do so," he says. Vaishya watched and listened to Mahatma Gandhi, Netaji Subhas Chandra Bose and Jawaharlal Nehru. "Why should I take charity from the government, instead I am doing charity myself to people in time of crisis."
Vaishya said he was disappointed with the rampant corruption in the country.
"Nothing moves in offices without a bribe," he says.
He is impressed by Prime Minister Modi's work and his vision for India. "I have a good opinion about Modi."
Vaishya also praised Bihar Chief Minister Nitish Kumar for his honesty and sensible style.
"No one is accusing Nitish Kumar as corrupt. His rivals have been targeting him but not for corruption. It is a big thing for politicians today," he says.
He advised senior citizens to save some money for their old age. "Old people must arrange for some kind of pension. Besides, senior citizens should not expect much from their children as the world has changed now," he reflects.
For youngsters, Vaishya advises combining hard work with honesty.
"The mantra is difficult but not impossible and it is key to achieving success in life," he says.