The appointees are expected to reflect Rahul Gandhi's vision of a new Congress with MP and Rahul's "bench mate" in the LS, KC Venugopal, expected to play an important role.
Aditi Phadnis reports.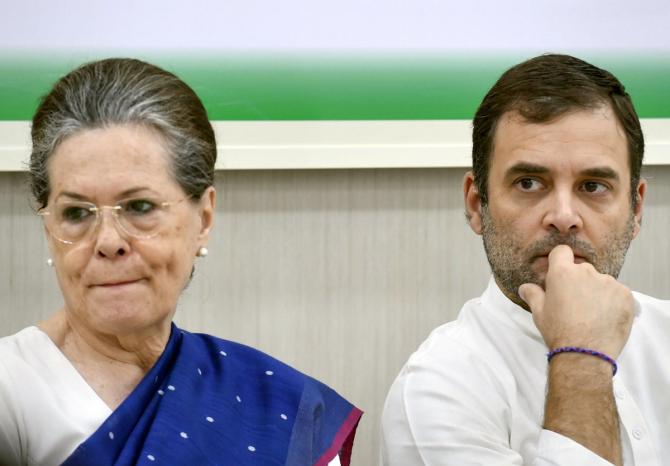 New vice-presidents, a comprehensive reshuffle of general secretaries, and changes in the state-level leadership are part of the effort to create a new-look Congress after the stormy meeting of the Congress Working Committee.
These changes are being made in response to a letter written by a group of 23 Congressmen, which attempted to jolt the leadership out of its "inactivity", but succeeded instead in strengthening the Gandhi family's hold over the party.
The outlines of the reshuffle are still being worked out and should be announced in the next few days, top party leaders said.
However, given that the party constitution has no provision for the post of vice-president, this can only be an extension of a suggestion made by former president Rahul Gandhi at the meeting on Monday that a committee aid and advise the interim Congress president till the All India Congress Committee elects a new president.
The appointees are expected to reflect Rahul Gandhi's vision of a new Congress.
MP and Rahul's "bench mate" in the LS, KC Venugopal, is expected to play an important role.
Others who have spoken up for Rahul's ideas -- like Sushmita Dev, chief of the Congress's women's wing; Rajeev Satav, the man who stirred it all up by targeting senior leaders at an earlier party meeting; Manickam Tagore, Lok Sabha MP from Virudhunagar in Tamil Nadu; K Raju, who is Rahul's man for ideas on social equity; Bhanwar Jitendra Singh; and Madhu Goud Yaskhi -- are among those who could be entrusted with organisational responsibilities.
A part of this exercise has already begun with the replacement of Avinash Pandey with Ajay Maken as the general secretary in-charge of Rajasthan.
It is not that Rahul Gandhi has not been taking positions on party matters: Earlier this month, he addressed a video conference of party workers from Bihar, which was attended by Bihar general secretary in-charge SS Gohil and state party chief Madan Mohan Jha.
For all practical purposes, Rahul reached out to the party as its president.
Although there was some talk of a non-Gandhi president (the names of former defence minister AK Antony and former leader of the opposition in the Lok Sabha Mallikarjun Kharge were mentioned), most leaders feel this is not realistic.
They point to how Rahul's acolytes dismissed Priyanka Gandhi Vadra's view that a non-Gandhi could be president, as being more than a year old, made at a different time and context and, thus, no longer valid.
Preparing for the new dispensation, many leaders are now recalibrating their positions.
"We have never questioned the leadership of Soniaji," said Veerappa Moily, former Union minister and signatory to the letter, a day after the CWC.
"We do recognise the sacrifice made by Soniaji. She was reluctant (earlier to take up the post), but she gave life to Congress party. And we still treat her as our own mother and guide the destiny of the party and also destiny of the nation. But at the same time, the party needs to be rejuvenated," Moily added.