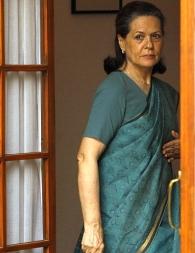 A day after Sonia Gandhi's letter to Prime Minister Manmohan Singh asking the Centre to ensure that suspended Indian Administrative Service officer Durga Shakti Nagpal is not "unfairly treated", the Samajwadi Party flexed its muscle over the Food Security Bill.

"We will vote against the food bill in its present form," said Samajwadi Party leader Naresh Agarwal on Sunday.
Hitting out at the Congress president, the SP, which lends crucial outside support to the Congress-led United Progressive Alliance at the Centre, asked where was Gandhi when IAS officer Ashok Khemka was being victimised for speaking against her son-in-law Robert Vadra in Haryana.

The Congress slammed the SP for attacking Gandhi for her support to Nagpal and said the ruling party in Uttar Pradesh is trying to hide what is essentially a case of corruption and illegal mining.
Party spokesperson Sandeep Dikshit also dismissed SP's comments that the Congress president should also write a letter in support of Ashok Khemka, the Haryana IAS officer who had scrapped her son-in-law Robert Vadra's controversial land deals and was transferred.

"Both issues are totally different. That (Vadra's) was a civil matter. Khemka was transferred along with other officers and not suspended. Anybody could go to courts against it," he said.

Being a member of Parliament from UP and the president of the country's largest political party, the Congress chief is well within her rights to express something on a question of administrative principle and ethics, Dikshit said, adding the issue of Nagpal's suspension has gone beyond UP's boundaries.
Dikshit said there were several things officers do which are not amiable to politicians but there are ways to approach the matter.
In a strong criticism of Akhilesh Yadav's governance, he said governments are not "personal kingdoms" of the 15th century feudalism era where rulers can "say off with their heads". Another young Congress leader and MP Jitin Prasada said the SP is misleading the people by raising the bogey of communal tension to justify her suspension. The real issue is that of corruption and illegal mining under the patronage of politicians and people of UP know it, he said.