Union Home Minister Amit Shah is scheduled to address a rally in Hisua area in Bihar's Nawada district on Sunday.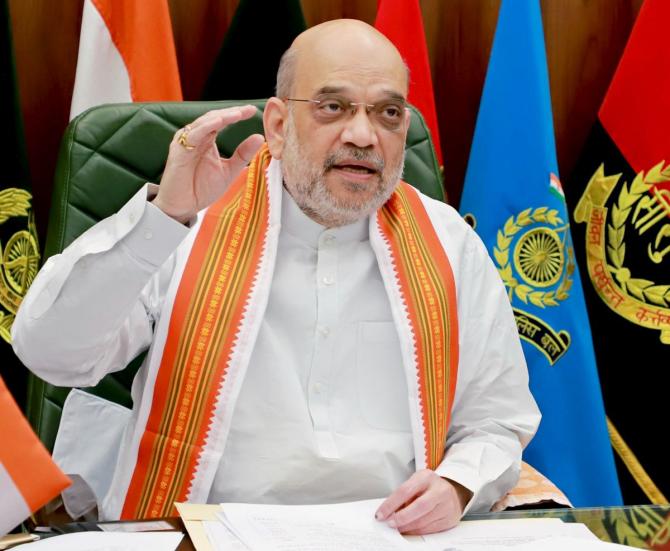 He arrived in Patna on Saturday evening and put up at a hotel, where he met state Bharatiya Janata Party leaders.
His scheduled visit to Sashastra Seema Bal's Patna Frontier on Sunday morning was cancelled due to 'unavoidable reasons', a statement said.
Shah was scheduled to dedicate to the public nine establishments of the SSB and conduct 'bhoomi pujan' for a new Patna Frontier building.
He will now leave for Nawada in the afternoon, before which he is expected to chair a meeting with senior state BJP leaders.
"The programme in Nawada stands. The district is peaceful and unaffected by disturbances elsewhere," BJP MLA Jibesh Kumar Mishra, who is camping in Nawada, told PTI over the phone.
Widely regarded as the BJP's principal strategist, Shah was also scheduled to take part in a function in Sasaram town of Rohtas district, which has been put off in view of communal violence that began Thursday evening during Ram Navami festivities and continued till Friday.
Besides, communal conflagration has also rocked Bihar Sharif, barely 40 km from Nawada.
Altogether 45 people have been arrested in the two riot-hit towns.
Shah's Sasaram event was touted as a celebration of the birth anniversary of Asoka, the Mauryan emperor, who has acquired the status of an OBC icon in Bihar, which has been the veritable laboratory of Mandal politics.
BJP leaders were quick to allege that Section 144 of Code of Criminal Procedure (CrPC) was imposed in Sasaram 'deliberately' with the intent to impede Shah's function, a charge rejected by the Nitish Kumar government.
Rohtas District Magistrate Dharmendra Kumar issued a video statement saying: 'Section 144 was never imposed. No such order was passed by myself or the Sub Divisional Magistrate concerned. Order was completely restored in Sasaram by Friday evening. We did resort to restrictions like suspending internet services for a day.'
Nonetheless, the state BJP shared video clips on its social media accounts wherein police personnel could be seen advising common people to stay indoors with the announcement 'Section 144 has been imposed'.
The DM said, "We have issued show cause notices to such police personnel. They have said that they relayed the message as a tactic to get some handle over the situation."
The BJP, however, was certainly not impressed with the comedy of errors and the chief minister's insinuation -- 'instructions are in place to track down those who indulged in mischief to cause the disturbances which were unusual and unnatural' -- added insult to injury.
The saffron party gave vent to its outrage by going to the Raj Bhavan where a memorandum was submitted to Governor Rajendra Arlekar.
Signed by close to 30 senior leaders, including state BJP chief Samrat Choudhary and Leader of the Opposition in assembly Vijay Kumar Sinha, the memorandum squarely blamed the cancellation of Shah's programme on 'extreme incompetence and failure of the administration'.
Kumar, the Janata Dal-United supremo, who was a BJP ally till less than a year ago, however, was of the view: "I failed to understand why he was coming in the first place. And I fail to understand why he is not going (to Sasaram)."
JD-U spokesman Himraj Ram twisted the knife with a statement claiming 'Shah's programme has been cancelled since the BJP was wary of not being able to manage sizeable crowds in Sasaram'.
This is Shah's fourth visit to Bihar since the BJP got stripped of power in the state in August last year when Kumar walked over to the Mahagathbandhan comprising the RJD, Congress and the Left.
With the National Democratic Alliance (NDA) in tatters, the BJP faces an uphill task in the Lok Sabha polls next year though it has swept Bihar in the last three general elections, including the one in 2009, when the coalition had put up a dismal performance nationally.
© Copyright 2023 PTI. All rights reserved. Republication or redistribution of PTI content, including by framing or similar means, is expressly prohibited without the prior written consent.