Snubbed by his party leader Rahul Gandhi and panned by the Bharatiya Janata Party for questioning surgical strikes, senior Congress leader Digvijaya Singh swung into damage control mode on Tuesday and said his questions were to the government and not the armed forces.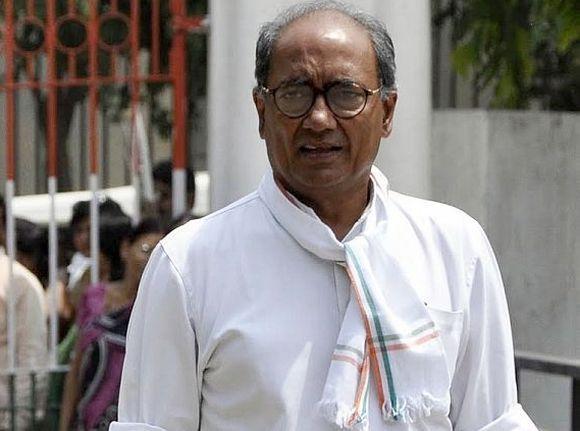 "I have held our armed forces in highest esteem. Two of my sisters were married to naval officers.... There is no question of my asking questions to defence officials. My questions are to the Modi government," he said on Twitter, hours after Gandhi rebuffed him calling his statement "ridiculous".
Addressing a public meeting during the Bharat Jodo Yatra in Jammu and Kashmir on Monday, Singh had questioned the surgical strikes and accused the government of peddling lies. His remarks triggered a huge political controversy with the BJP targeting him, the Congress and Rahul Gandhi who is leading the foot march.
Targeting the opposition party over Singh's remarks, Madhya Pradesh Chief Minister and BJP leader Shivraj Singh Chouhan said, "The DNA of Congress is Pakistan-parast (pro-Pakistan). Sometimes they ask for a proof of surgical strike. At times they ask for a proof of Lord Ram's existence, the evidence of Ram Setu."
The BJP also asked the Congress to make its stand clear on the issues of terrorism and national security and targeted Rahul Gandhi as well.
Why did Gandhi take so long to publicly declare his respect for the armed forces, the BJP asked on Tuesday, slamming the former Congress chief for dismissing Singh's controversial comments as a "personal opinion".
Gandhi, who faced a volley of questions from the media in Jammu and Kashmir, said he and the party completely disagreed with Singh's statement.
"There are people who will say ridiculous things during conversation. I am sorry to say so about a senior leader, he said a ridiculous thing," Gandhi told a press conference in Jammu and Kashmir.
"We have full trust in our army. If army performs any task, there is no need to give any proof. I completely disagree with his statement and this is the official position of the Congress party that it is the personal point of view of Digvijaya Singh," he added.
Addressing the public meeting in Jammu and Kashmir, Singh alleged that the government did not agree to the CRPF request of flying its personnel from Srinagar to Delhi and 40 soldiers sacrificed their lives in Pulwama in 2019 to a terror attack.
"They talk of surgical strikes. They claim to have killed so many people but no proof is given. They are ruling by peddling a bundle of lies," the former Madhya Pradesh chief minister, who has often courted controversy with his comments, said.
Facing flak from his own party and the BJP, Singh on Tuesday sought to damage control and posed some questions to the government.
In a series of tweets, he said, "Who is responsible for the unpardonable intelligence failure where our 40 CRPF personnel were martyred? From where the terrorist could source 300 kg of RDX? Why was the request by CRPF to airlift the CRPF personnel denied."
"Why was Devinder Singh DySP who hails from Pulwama after being captured by J&K police with terrorists let off? Pulwama is one of the most terrorist infested location, why was the area and vehicles not checked and sanitised.
"These are my valid questions to the Modi government. Don't I as a responsible citizen have a right to know the facts? Who has been punished for this serious lapse? In any other country the home minister would have been made to resign," the former Madhya Pradesh chief minister said.
Asked about action being taken by the Congress against Singh, Gandhi said the Congress is a democratic party and "not a dictatorship".
"We don't run our party on the principle of coercion. We don't appreciate Singh's personal views. But views of the party are above Digvijaya Singh's views.... We are absolutely clear that armed forces do a job. They do the job exceptionally well. They don't need to be providing proof for anything," he said.
As Gandhi snubbed Singh, BJP leader and former Union minister Ravi Shankar Prasad said the Congress has a habit of projecting uncomfortable views of its leaders as their personal views and asked if there is any limit to such opinion.
"The question is what is the standard of these leaders when it comes to respecting our armed forces. Indians do not seek proof of their heroics but salute them," Prasad told reporters, noting that Singh has a history of taking controversial stands, be it visiting families of suspected terrorists killed in the Batla House encounter or praising radical Islamic preacher Zakir Naik.
Attacking Gandhi for his "vacillating" stand on armed forces, he also cited some of his previous remarks, including a recent comment in Dausa during the Bharat Jodo Yatra questioning the government's handling of the border standoff with China and claim that the Chinese were "beating up" Indian soldiers.
He had used the "khoon ki dalali" barb after the 2016 surgical strikes to attack the Modi government and gone to the Jawaharlal Nehru University (JNU) to extend moral support to "tukde tukde gang", Prasad told reporters.
Why it took him so many years to say publicly that he respects armed forces, the BJP leader asked. He should have also said "sorry" for what he had said earlier, Prasad added.
Union Law Minister Kiren Rijiju shared a video of retired Air Marshal Raghunath Nambiar stating that the Balakot air strike was a "thumping success".
Sharing the video clip on Twitter, Rijiju said, "This is the reply to Congress party and all those who question the Indian Armed Forces."
In the video, Nambiar, who retired as Air Officer Commanding-in-Chief of the Western Command of the Indian Air Force in 2019, said the pilots who carried out the air strike at Balakot achieved "all objectives" that had been set.
Talking to reporters in Bhopal, Shivraj Singh Chouhan said, "They are committing the sin of lowering the morale of the armed forces. This shows they are standing with Pakistan."
Seeking a reply from Rahul Gandhi on Singh's remarks, Chouhan said, "What kind of Bharat Jodo Yatra is this? The tukde-tukde gang is marching with you. The morale of the armed forces is being lowered. Rahul Gandhi is also raising questions on the armed forces. This is not patriotism."
In Jammu, the Shiv Sena Dogra Front staged a protest on Tuesday against Singh's remarks on surgical strikes and the Pulwama terror attack. The outfit demanded Singh's apology and that the Congress expel him from the party for his remarks.
© Copyright 2023 PTI. All rights reserved. Republication or redistribution of PTI content, including by framing or similar means, is expressly prohibited without the prior written consent.