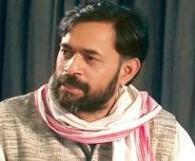 Taking the ruling Congress head on, Aam Aadmi Party leader Yogendra Yadav has claimed that corruption in Haryana was "much worse than Delhi".
Lashing out at the Bhupinder Singh Hooda government, Yadav said, "The AAP's doors will always remain open" for IAS officer Ashok Khemka, who had highlighted illegalities in land deals involving Robert Vadra, the son-in-law of Congress President Sonia Gandhi.
"The Haryana government is facing corruption allegation in land deals, change of land use and recruitments. If corruption was an issue in Delhi, then it is hundred times a bigger issue in Haryana," he said.
The AAP leader said each and every department and ministry in the state was plagued with corruption.
Clarifying that Khemka had not accepted the invitation to join AAP, he said the party would always welcome "such honest officers".
"When Khemka highlighted the illegalities in land deals involving Robert Vadra, we made it clear that we would like to bring such honest officers in the party. We had given him an invitation, which he did not accept. But the AAP's doors will always remain open for him," said Yadav.
The 50-year-old academician-turned-politician did not spare opposition parties, and accused them of deliberately not taking up issues pertaining to corruption.
"They all are hand-in-glove with the corrupt," said Yadav, while vowing to make corruption an election issue.
Though Yadav is projected as the likely chief ministerial candidate for the state which goes to polls later this year, he said no decision had been taken on the issue yet.
"There should be no hurry in declaring the CM candidate. So far, no decision has been taken about who will lead the campaign in the state," he said.