Pakistan, which has propped up the new Taliban leadership, would be keen to use its influence over the group to neutralise India's presence in the region. Ajai Shukla reports.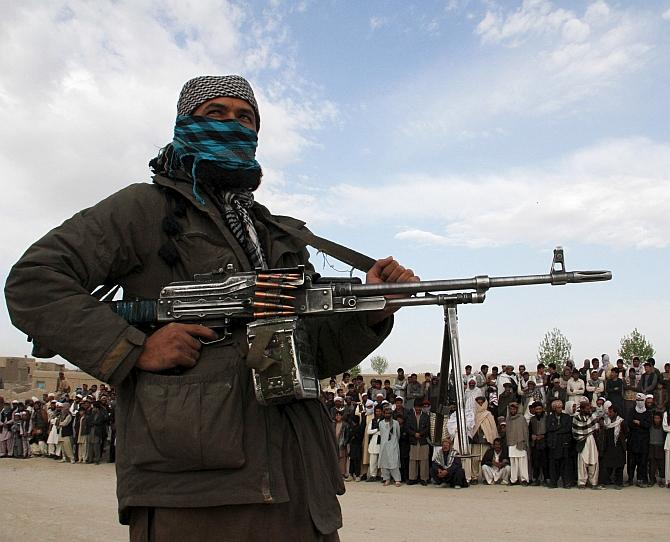 On July 30, the Afghan government and the Taliban announced the death of Mullah Mohammed Omar Akhund, the shadowy, fundamentalist cleric who had led the grouping since it was founded in 1994.
Omar's leadership had seen the Taliban through six years of power in Kabul and more than a decade of unyielding insurgency against a powerful US-led international coalition that backed what he called the "puppet regime" in Kabul.
It remains unclear how and when the government of Afghanistan became aware of Mullah Omar's death.
For the past five years, Kabul had repeatedly tried to initiate a "reconciliation dialogue" with him. Nor did the Taliban explain why it kept the death of its former leader secret for two years, or why it issued a statement in Mullah Omar's name before Eid last month, endorsing the peace dialogue that Pakistan and China brokered between the Taliban and the Kabul government of President Ashraf Ghani.
Even more curious is the silence that the government of Pakistan has maintained on Mullah Omar's death. This is especially odd, given that the Taliban leader had lived in Pakistan since 2001, virtually a prisoner of the Inter-Services Intelligence.
If Mullah Omar had indeed died in a hospital in Karachi two years ago, Islamabad should have known it before anyone else.
Need for change

Those who are suspicious of Pakistan's role in these events believe that Mullah Omar's longstanding opposition to reconciliation with the ill-equipped and shaky Kabul regime may have outlived its use.
Mullah Omar now needed to be replaced by a more pragmatic (read pliant) leader. This ruled out his 26-year-old son, Mullah Mohammad Yaqoub, who is as much a hardliner as his father.
Instead, Mullah Akhtar Mansour was declared the Taliban's new leader.
This was followed by some surprising developments.
Mansour's first message was a 30-minute audio recording that called for unity within the Taliban.
Mansour distanced himself from the on-going peace talks in Pakistan, terming them "propaganda campaigns by the enemy".
He declared the Taliban would "continue our jihad until we bring an Islamic rule in the country". At the Taliban's request, talks scheduled with President Ghani's representatives were postponed until further notice.
A possible explanation for Mansour's tough position, which replicates that of Mullah Omar, is that it is mere posturing to win points with hardline Taliban that are not inclined to dialogue.
This could give way to Mansour eventually "coming around" at Islamabad's persuasion, and officially endorsing the peace talks.
In an indicator of ISI's hand in the succession, the new Taliban leadership includes a deputy from the Haqqani network, Sirajuddin Haqqani, son of the legendary Jalaluddin Haqqani, who reportedly died in April 2013.
In 2011, Admiral Mike Mullen, then America's top military commander, deposed before the US senate that the Haqqani network was a "veritable arm" of ISI.
The Haqqanis, who operate from North Waziristan, have held themselves aloof from Mullah Omar's so-called "Quetta Shura", which is based in Southern Afghanistan. Yet, now, in a move that suits ISI design, Jalaluddin Haqqani has apparently risen from the dead to post a statement on the Taliban website, urging factions to unite under Mansour.
A split house

Even so, divisions are fast appearing within the once-monolithic Taliban.
On Sunday, Mullah Omar's brother, Mullah Abdul Manan, issued a statement saying that Mansour's appointment had been carried out in haste and was not acceptable to many Taliban factions.
The fragility of Taliban unity is also evident from reports that Mullah Omar's son, Yaqoub, had been killed by a rival faction.
While Mullah Omar's custodianship of Afghanistan from 1996 to 2001 is remembered for fundamentalist oppression, the Taliban leader never kowtowed to Pakistan, even though Islamabad remained a steadfast supporter.
Mullah Zaeef, the Taliban's trusted ambassador to Pakistan, recounts how Mullah Omar rebuffed Islamabad when it conveyed Washington's message to hand over Osama bin Laden.
Zaeef revealingly describes the Taliban's fraught relationship with ISI, and Mullah Omar's determination to act in Afghanistan's best interests, not those of ISI and Pakistan.
The Taliban regime's fate was sealed after the 9/11 strikes on the US.
According to legend, Mullah Omar left Afghanistan in November 2001, travelling on the pillion of a motorcycle from Kandahar to Quetta. Since that day, when he became a guest of ISI, there has been no forensically verifiable evidence of his being alive.
Yet either he, or someone on his behalf, directed Taliban fighters operating from safe havens in Pakistan, bloodying an international coalition of more than 100,000 soldiers enough to cause it to leave Afghanistan to the Afghans.
At this point, the stakes could not be higher for Pakistan, which is using its influence with the Taliban to neutralise India's presence in Afghanistan.
For this, it has struck a deal with Ghani, a political lightweight who believes Pakistan's goodwill is essential for his political survival. In exchange for bringing the Taliban to the dialogue table, Ghani has promised Pakistan's army chief, General Raheel Sharif, that Indian influence would be minimised in Afghanistan.
Ghani's outreach to Pakistan is troubling most Afghans who regard Pakistani meddling and ISI's support to various militias (the Taliban is just one) as the root cause of problems in their country.
The Afghan public was outraged when Ghani, on his visit to Pakistan last November, drove straight from the airport to the army's Rawalpindi headquarters and met General Sharif, even before meeting his counterpart, Nawaz Sharif, in Islamabad.
Afghan sentiment was doubly outraged by the signing, in May, of an agreement between Afghanistan's National Directorate of Security and ISI to cooperate in fighting terror.
Even so, most Afghans recognise there can be no peace without the Taliban. With the death of Mullah Omar causing the Taliban to start splintering, there is little certainty than ever about Pakistan's grand scheme to gain influence in Kabul.