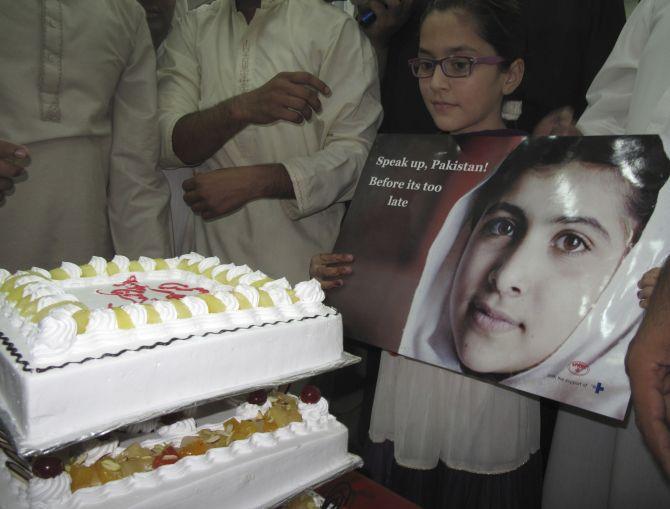 Hundreds of people in Swat, the picturesque home district of Malala Yousafzai, on Wednesday lauded the teenage global icon and peace activist for jointly winning the Nobel Peace Prize this year.
Students from various schools and residents of the area, which has long been hit by insurgency, organised a ceremony at Khapal Kor Hall to celebrate her triumph.
They watched Malala receive the Nobel on multimedia projectors and giant TV screens and distributed sweets in her honour and for bringing laureals to the country.
The attendees enjoyed songs of Sardar Ali Takkar and gave a standing ovation to the 17-year-old when she received the award in Oslo in the Norwegian capital.
The Nobel Peace Prize was awarded jointly to Malala Yousafzai and India's Kailash Satyarthi for their pioneering work on promoting child rights in the troubled sub-continent.
The ceremony in the district was also addressed by Malala's teacher Fazal Khaliq her cousin Mehmoodul Hassan and President of Global Peace Council, Ahmed Shah.
They said the award to Malala is a source of pride for whole Pakhtun region and added that they would carry forward her message.
Similarly in Peshawar, political leaders and civil society members also paid tributes to Malala for winning Nobel in Oslo and promised to forward her messages of education and peace.
They also organised a ceremony at Peshawar Press Club which was attended by several political leaders and civil society members.
Speaking on the occasion, they said Malala has promoted the name of Pakhtoons and Pakistan across over the world. It is our responsibility to carry forward her messages to all, they added.
They said Malala endangered her life for restoration of peace and fought for education to women.
"Malala zindabaad, militants murdabaad" and "we want peace" echoed the hall at the Press Club when Malala received the award.
Image: A student from KhushalGirlsHigh School holds a placard with a picture of Malala before cutting a cake to celebrate her winning the Nobel Peace Prize, in Mingora, Swat valley. Photograph: Hazrat Ali Bacha/Reuters
© Copyright 2022 PTI. All rights reserved. Republication or redistribution of PTI content, including by framing or similar means, is expressly prohibited without the prior written consent.