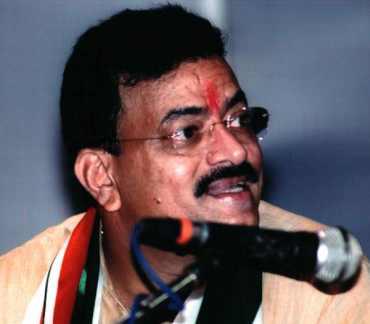 The income tax department has conducted searches at the premises of Nationalist Congress Party Minister Bhaskar Jadhav in Maharashtra -- after he came under the scanner over the extravagant wedding of his two children -- at a time when the state is battling severe drought.
The inquiries and searches were carried out by a team of 11 officers at Jadhav's hotel as well as his residence in Chiplun (Ratnagiri) and Karad (Satara) on Monday, I-T sources said.
The I-T sleuths also recorded the statement of the NCP leader on Monday night at his Chiplun residence, they said.
The department is gathering information about the huge expenses incurred during the elaborate weddings of Jadhav's son and daughter in Chiplun on February 13.
"Our mandate is to get information about the source of money that was spent at the wedding," sources said.
Jadhav, the minister of state for urban development, said he would quit public life if proven guilty.
"I have not done anything wrong. If proven guilty, I will not only resign from my ministerial post but also quit public life," he said while talking to reporters.
NCP had disapproved of the extravagance while conducting the twin weddings and had termed it as "inappropriate", as many parts of Maharashtra were reeling under drought and water scarcity. The party also came down heavily on the "ostentatious show of wealth".
NCP chief and Union Agriculture Minister Sharad Pawar had voiced his displeasure over the lavish arrangements.
IT sleuths also recorded the statement of a man, identified as one 'Shah', who allegedly provided crores of rupees for the wedding, which was attended by almost the entire state cabinet.
Jadhav clarified that he had given catering contract for the weddings to one Rakesh Shah, who has nothing to do with irrigation projects in the state, as alleged by some people. The expenses of the wedding were borne by the three families involved in it, he said.
Jadhav said he had invited 15,000 people for the weddings though a lot more people turned up.
"My life is an open book and I like to celebrate the happiness in my family with people of my constituency, who have made me what I am today," he stated.
Jadhav also said Pawar had the right to pull him up for his lavishness.
"What I did unintentionally was not in line with Pawar's principles and I have apologised," he said.
Meanwhile, Bharatiya Janata Party spokesman Madhav Bhandari said his party would not demand the minister's resignation as the NCP has not taken any action against its ministers.
"The NCP has not taken action against Transport Minister Gulabrao Devkar or Water Resources Minister Sunil Tatkare, who are involved in far more serious corruption cases. In that context, Jadhav's case is nothing," he said.
Bhandari also pointed out that apart from Jadhav, others like Ashok Gawade, the Navi Mumbai deputy mayor, Chinchwad Member of Legislative Assembly Laxman Jagtap, Sangli Mayor Idris Naikwadi, Chinchwad corporator's husband, the NCP Member of Legislative Council from Sangola which falls in Sharad Pawar's Lok Sabha constituency of Maadha, lavishly spent on their family functions recently.
"All this was happening despite Sharad Pawar disapproving the extravagant wedding of Bhaskar Jadhav's children. All NCP activists have been indulging in the display of their wealth despite the acute drought situation in the state. It is an indication that the NCP supremo does not have a hold over his party," he charged.
Leader of Opposition in Maharashtra Legislative Council Vinod Tawde said that Jadhav would have no moral right to continue in office if any wrongdoings were proved in the I-T searches.