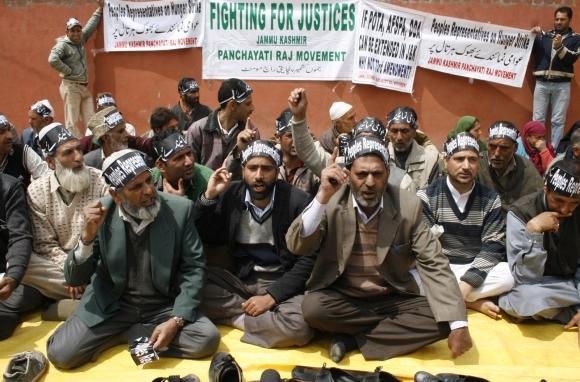 Over 50 village heads (sarpanch) have resigned from their positions in Kashmir Valley, with four of them announcing their resignation on Monday. 
The resignations are a blow to the revival of grass-root level democratic institutions in Kashmir Valley, elections for which were held in 2010 after a long hiatus with great fanfare.
Not only did the sarpanches submit their resignation to the appropriate authority, but they also publicised their action through paid advertisements in local newspapers.
Reminiscent of the 1990s, when almost all political activists across the Valley's political spectrum resorted to the same tactics, the sarpanches, in their public notices, quoted domestic compulsions as a reason for their resignations.
Monday's edition of Rising Kashmir, a leading Valley daily, carried paid advertisements in vernacular by four sarpanches declaring their resignation and dissociation from the job of the village head.
 "I, Ghulam Haider Wagay, sarpanch of Baderhama (in south Kashmir's Pulwama district) hereby announce my resignation due to my heavy domestic engagements because I feel that I cannot get anything out of the job except wasting my time. I am resigning to save my innocent family. I request all with regret not to contact me in my capacity as a sarpanch as I have no direct or indirect association with the post," he said.
Interestingly, all four notices are absolutely identical in tone and tenor.
Another interesting feature of the resignation is that all the sarpanches who have tendered the resignation are from south Kashmir.
Militant outfit Jaish-e-Mohammad had last week issued a stern warning to all the sarpanches to resign within a week's time or face dire consequences.
The warnings had been issued through posters pasted on mosque walls, lamp posts and shop shutters at different places in the twin adjacent districts of Shopian and Pulwama in south Kashmir.
Militants have recently carried out three attacks against village heads and their family members in south Kashmir. Official sources said so far, over four dozen elected village heads have quit their posts in the troubled Valley.
 
The panchayati polls were held with a lot of fanfare in 2010, immediately after the deadly summer unrest that claimed 112 lives and left thousands wounded.
Even though the elections were completed successfully, the sarpanches and panchayats were not armed with necessary powers. The sarpanches had been holding protests and sit-ins demanding transfer of power to the panchayats.
In a related development, the authorities have revived night patrolling by the army, paramilitary and police, following the recent increase in militancy related incidents.
Image: Village heads protest at Lal Chowk, Srinagar | Photograph: Umar Ganie