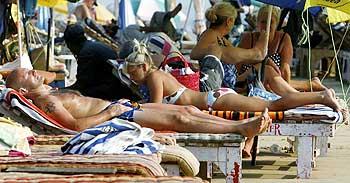 Having already triggered a controversy by his remark against "young girls going to pubs in short dresses", Goa minister Sudin Dhavalikar on Tuesday waded into another, saying bikinis should be banned on state's beaches.
"Wearing bikinis should be banned on Goa's beaches," said Dhavalikar, the state's public works department minister, comments that may not go down well with hordes of foreign tourists who throng Goa's shores every year to soak in the sun.
"We should not allow girls with bikinis to enter public places because it very difficult to control people who arrive in Goa from different states. By the time victim reaches the police it is too late. It is better to control such type of activities on the beaches," he said.
Dhavalikar, whose Maharashtrawadi Gomantak Party is an ally of the ruling Bharatiya Janata Party, said even Chief Minister Manohar Parrikar was in favour of such a ban.
"The chief minister knows it very well what I say. He has already started taking action against massage parlours. He will take up this issue (banning bikinis) in a different way to stop this nonsense," he said.
Parrikar was not available for comment but the BJP distanced itself from the remarks, saying bikinis cannot be banned. "According to me, something which is not a sin across India, cannot be a sin in Goa," BJP Goa spokesman Wilfred Mesquita told PTI.
He said when bikinis are not banned across India "we cannot ban them in Goa". "Why bikinis are required to swim in the sea. In earlier days, there was no bikini (but girls swam)," Dhavalikar said.
"Young girls going to pubs in short dresses does not fit in our culture. What will happen to our Goan culture, if we allow this?... The scantily dressed girls visiting pubs project wrong culture and this should be stopped," he had said on Monday.
He defended his Monday's statement saying, "Nobody wants their daughters, wife, sisters to be in a pub. I never said pubs should be closed but what is happening inside should stop."
Congress party's Goa unit has reacted strongly to "moral policing" by Dhavalikar and couriered a mini skirt to the minister's residence as a mark of protest. "We will not tolerate moral policing. The Constitution allows those above 18 years to decide for themselves what is good or bad," Congress spokesman Durgadas Kamat said.