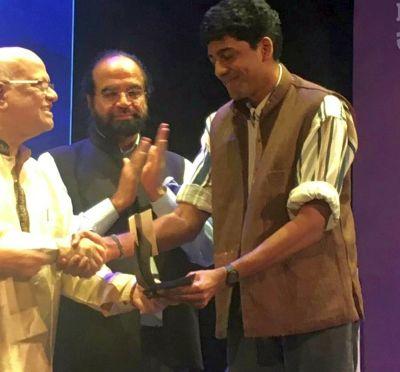 Sri Lankan author Anuk Arudpragasam, who won the DSC Prize for South Asian Literature on Saturday, has now bagged the Shakti Bhatt First Book Prize 2017 for his debut novel The Story of a Brief Marriage, set in the backdrop of the civil war.
The jury of Kamila Shamsie, Rohini Mohan and Margaret Mascarenhas chose Arudpragasam's book over Prayaag Akbar's Leila, Hirsh Sawhney's South Haven, How I Became a Tree by Sumana Roy, Tripti Lahiri's Maid In India and These Circuses that Sweep Through the Landscape by Tejaswini Apte-Rahm.
Now in its tenth year, the prize was set up in 2008 in memory of young writer Shakti Bhatt to encourage authors from the sub-continent. The prize is a cash award of Rs 2 lakh and a trophy.
The award ceremony will take place on December 20.
The Story of a Brief Marriage presents the civil war in Sri Lanka like never before. Writing from within the debris of Tamil lives, Arudpragasam's protagonists find dignity as they piece together strategies of survival.
The story is about the human spirit in the most desperate of times. It sings not as testament of glory but as a dirge of despair, according to the jury.
The novel, published in India by HarperCollins, won the USD 25,000 DSC Prize at the just-concluded Dhaka Lit Fest.
Sharing his sentiments on the win, Udayan Mitra, Publisher (Literary) at HarperCollins India said, "Anuk Arudpragasam's novel A Story of a Brief Marriage is a work of extraordinary sensitivity and imagination: a short novel that unfolds over a small time span during the final battle between the Sri Lankan army and the Liberation Tigers of Tamil Eelam in 2009, it has a ripple effect that resounds and ricochets in the reader's consciousness, for it is an unforgettable work about life and the human condition."
Two and a half decades into the devastating civil war, Sri Lanka's Tamil minority is pushed inexorably towards the coast by the advancing army. Among the evacuees is Dinesh, whose world has contracted to a makeshift camp where time is measured by the shells that fall around him like clockwork.
Alienated from family, home, language, and body, he exists in a state of mute acceptance, numb to the violence around him, till he is approached one morning by an old man who makes an unexpected proposal: that Dinesh marry his daughter, Ganga. Marriage, in this world, is an attempt at safety, like the beached fishing boat under which Dinesh huddles during the bombings.
As a couple, they would be less likely to be conscripted to fight for the rebels, and less likely to be abused in the case of an army victory. Thrust into this situation of strange intimacy and dependence, Dinesh and Ganga try to come to terms with everything that has happened, hesitantly attempting to awaken to themselves and to one another before the war closes over them once more.
Photograph: Courtesy @thedscprize/Twitter