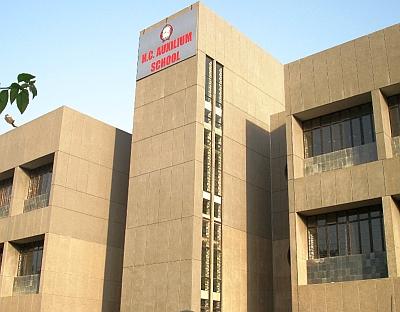 A Christian school was allegedly vandalised by a group of unidentified persons in South Delhi's Vasant Vihar area in the wee hours on Friday, the police said. The police said the office of the school principal was vandalised and some CCTVs were damaged.
The incident took place at Holy Child Auxilium School following which the school was shut and students were asked to go back to their homes.
"We are investigating the case and also scanning the footage of CCTVs installed in the school premises," said a senior official. Senior police officials rushed to the spot and are collecting the evidence from the school.
Reports say the CCTV camera inside the school was broken and some money was stolen from the Principal's office.
In January, some unidentified groups had vandalised a church in Vasant Kunj which triggered protests by people belonging to the Christian community.
Meanwhile, Delhi chief minister-designate Arvind Kejriwal condemned the alleged attack.
"I strongly condemn the attack on the school. These kinds of acts will not be tolerated," Kejriwal tweeted.
Following the incident, Human Resource Development Minister Smriti Irani visited the school.
Irani, an alumnus of the institution, had earlier apprised Union Home Minister Rajnath Singh of the situation and requested him to look into the matter. She met with the faculty and reviewed the overall situation arising out of the incident with them as well as with area police officers before departing.
Meanwhile, Delhi Police Commissioner BS Bassi said that an initial investigation has shown that it was a case of theft and not religious-oriented desecration.
"Money was stolen from a donation box in the school premise. This is a case of theft, not a matter of desecration," said Bassi.
Vandalisation shocking: Delhi Catholic Archdiocese
The Delhi Catholic Archdiocese said it was shocked that school had become the latest Christian institution to be vandalised despite assurances from the concerned authorities.
"We are shocked again that so quickly another attack has taken place in one of our Catholic institutions. Though this time, it's not a church, but a Catholic school run by nuns. They first attacked the CCTV cameras and then went into the principal's office and stole whatever money they could," said Father Dominic of the Delhi Catholic Archdiocese.
"We are sad, surprised that despite assurances from authorities, Christian institutes are being attacked. We will wait for what police has to say. We feel helpless. Who are these people and why are they doing this?" he asked.
With inputs from PTI