Epidemiologists point out that if there is no second wave, it means that the number of infected has surpassed the uninfected, reports Ruchika Chitravanshi.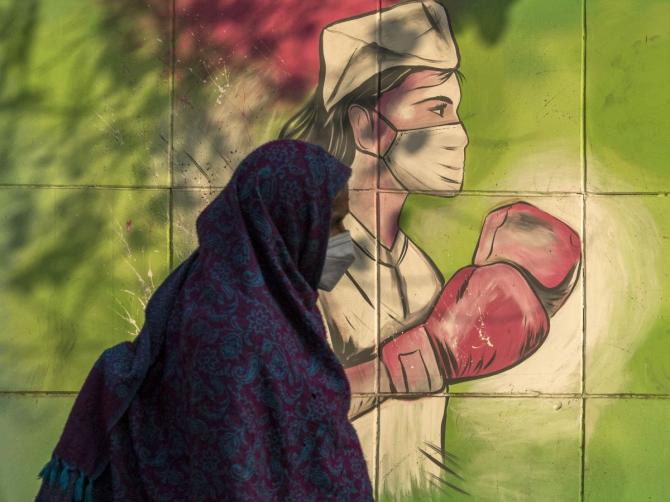 After a year of battling Covid-19, India's graph of coronavirus cases has been on a steady decline, giving hope that the epidemic may be on its last leg. If this continues, epidemiologists say India might not witness a second wave, something many nations are grappling with.
India's cases, which peaked at over 90,000 per day in mid-September last year, were down to around 9,000 on January 26. In the last two weeks, they have been in the range of 15,000-12,000 per day.
"No other country had the pattern like India's," said Jacob John, former head of the Centre for Advanced Research in Virology, Indian Council of Medical Research. "They all have different factors operating. Our curve is a symmetrically sloping one on both sides of the peak."
Epidemiologists point out that if there is no second wave, it means that the number of infected has surpassed the uninfected. "There is no scientific evidence to prove that Indians have greater immunity towards the virus. It means that we have missed the infected numbers," John added.
While the data shows a decline, sero survey numbers indicate a large part of the population has already caught the infection. A large number of infections have remained undetected and mostly mild or asymptomatic so the cases did not seek healthcare or get tested. The latest sero survey in Delhi, for instance, showed that more than 50 per cent of those surveyed have developed antibodies against Covid-19.
An analysis of earlier sero surveys by Michigan University found that the big metros are likely reaching disease-induced herd immunity with 98 per cent cases going undetected.
"I was on the cautionary side when the festival season started in November, but to my surprise, and that of many others, India did not see a second surge," said Bhramar Mukherjee, chair of Biostatistics Professor of Epidemiology at the University of Michigan. "Rural India is a mystery to me, but I think lower population density, cross-immunity and outdoor lifestyle really helped with slowing down or preventing transmission."
Some experts, however, caution that there is still a large fraction of our population, particularly outside the major cities, that remains susceptible to the virus. And this, they add, could lead to another surge. "What remains unknown is whether a good fraction of our population might have some level of prior immunity, possibly from exposure to other coronaviruses," said Gautam Menon, professor of biophysics and computational biology, Ashoka University.
Whether or not parts of India have achieved herd immunity, the next big mission is to vaccinate enough people to gain control over transmission of the virus. India flagged off the world's largest vaccination drive on January 16.
The immunity from the virus, scientists have said, starts two weeks after the second dose, which has to be administered at a gap of four weeks. This means by early March, those who have received the shot will develop the antibodies.
A recent study by Israel's Maccabi Health Services has shown a link between vaccination and a drop in new infections. "We will be able to bypass any second wave in India if we can have a nimble vaccine rollout and vaccine acceptance while the number of active infections is low," Mukherjee said.
However, at the current daily rate, "it will be many months before a substantial fraction of our population is immunised," Menon said. "Till then, other measures such as mask wearing and prohibiting large gatherings will have to remain in force."
The "new variants" challenge as the coronavirus mutates is also a big concern. Scientists said a person infected with the UK variant was 30 to 40 per cent more likely to die than someone with a different variant.
"We need to strike a balance between alarmism and denial till more studies are done on these new mutations," Mukherjee said. "We are this close to winning the battle; let us keep marching."