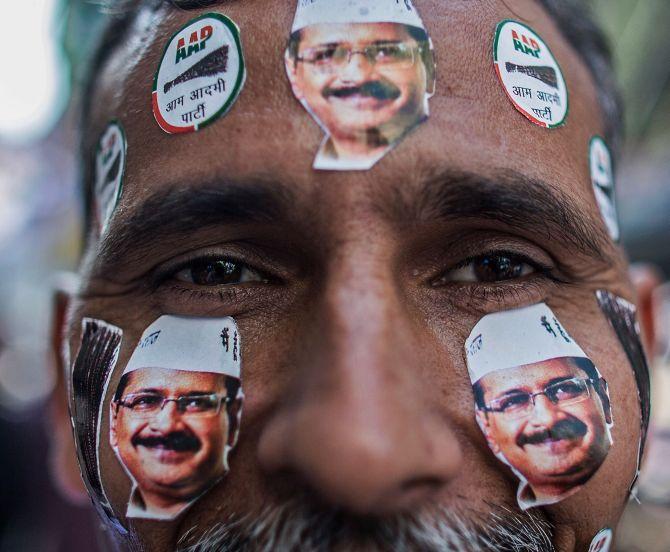 Arvind Kejriwal-led Aam Aadmi Party would get 48 seats with 47 per cent vote share if Delhi goes to polls now, according to an opinion poll, which has also predicted that Bharatiya Janata Party would fare better than its dismal performance in the last assembly elections.
According to the poll conducted by ABP News-Nielsen, and published on Saturday, the sole opposition BJP's position is likely to get better with 22 seats against 3 seats the party managed to secure in 2015 assembly election.
As per the poll, compared to last assembly elections, there is decline in terms of votes and seats for AAP but it is still in a strong position.
The AAP in a spectacular comeback last year had hauled 67 seats in a 70-member assembly scripting a history of sorts.
The opinion poll was conducted from January 23-31 with 5,101 respondents in 28 assembly constituencies.
However, Congress, which drew a blank in 2015 polls, still does not seem to come out of the debacle it faced in the elections, as the opinion poll, predicts no seat for the party.
According to the poll, 35 per cent respondents feel the performance of AAP government in Delhi over the last one year is good and around 15 per cent find it very good.
While 30 per cent people rate the performance as average, while only 19 per cent see it as poor or very poor.
Thirty three per cent respondents to the poll rated the performance of Arvind Kejriwal as Delhi chief minister in the last one year as good, 14 per cent feel that his performance has been very good.
Though AAP government is still strong in Delhi, Arvind Kejriwal seems to lose out against Prime Minister Narendra Modi when it comes to popularity.
A majority of around 50 per cent people who participated in the poll think Modi as the most popular politician.
However, a higher proportion of respondents think that compared to Modi, Kejriwal is more committed to remove corruption.
Image: A man with Arvind Kejriwal stickers on his face. Photograph: Lam Yik Fei/Getty Images