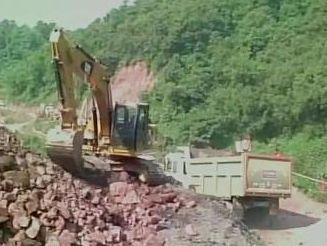 Nine days after they got trapped in a partially collapsed under-construction tunnel near Bilaspur in Himachal Pradesh, two workers were on Monday rescued and brought out even as search operations continued for the third worker who is still suspected stuck under the debris.
The rescued workers have been identified as Mani Ram and Satish Tomar, National Disaster Response Force Director General O P Singh, who is monitoring the rescue operation from New Delhi, told PTI.
However, there has been no communication with the third employee, Hriday Ram.
"We have rescued two of the three workers who were trapped in the tunnel for over a week. Beginning this morning our teams have also begun a horizontal drilling operation to see through the debris and find the third worker whom we suspect is trapped somewhere there," Singh said.
The DG added that while he was still in contact with the NDRF rescue teams, initial inputs suggested that the rescued personnel were weak but talking.
The miraculous and fine rescue operation by the men of the NDRF came a day after incessant rains lashed the accident spot and a snag developed in the heavy drilling rig that was drilling through to rescue the trapped.
The employees were trapped inside tunnel No 4 of Kiratpur-Nerchowk four-lane project near Bilaspur in Himachal Pradesh when a portion of it collapsed on September 12.
Visuals emerging from the spot showed the rescuers flashing the victory sign and screaming in jubilation after the two were brought out from the narrow and dark tunnel.
The drilling of 1.2 mt diameter tunnel to reach the trapped persons was almost complete and less than 1 mt of drilling was left when the heavy drilling rig developed a snag last night, warranting replacement of a part of the drill and the operations were suspended.
The rescuers, earlier, had also established communication with two of the three trapped labourers through digital cameras and microphones after hours of digging.
A 45-member NDRF team, with three specially chosen men in the lead, have been working in the operation for days now.
Food and water had been supplied to the trapped workers through a 47 mts and 4-inch diameter bore.
© Copyright 2022 PTI. All rights reserved. Republication or redistribution of PTI content, including by framing or similar means, is expressly prohibited without the prior written consent.