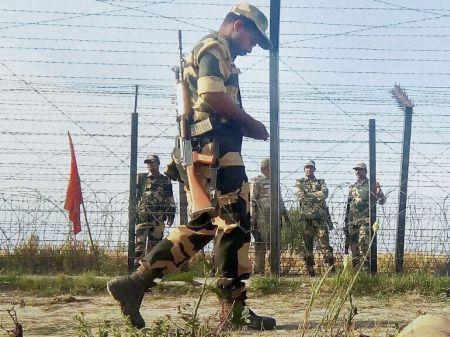 After a lull of nearly seven months, the ceasefire on the Line of Control was violated again on Sunday with Pakistan army resorting to mortar shelling and firing in Poonch sector, a development that comes amid a fresh chill in relations between the two countries.
"The Pakistan army resorted to unprovoked ceasefire violation along the Line of Control in the Poonch sector of Jammu and Kashmir," Defence spokesman Lt Col Manish Mehta said.
He said the Pakistan army resorted to heavy mortar and automatic weapon fire in the Shahpur area of Poonch sector at 4.30 am.
"Our troops responded appropriately and no casualties or damage to our troops was reported," the spokesman added.
The ceasefire violation comes after nearly seven months as last such incident took place on September 18, 2015 in the Balakote sector of Poonch district.
"Today's ceasefire violation is the first major such incident of 2016," a senior army officer said.
Last year, 16 civilians were killed and 71 others injured in 405 incidents of cross-border firing by Pakistan, the officer said.
While 253 incidents of ceasefire violations took place along the International Border, 152 incidents were reported along the LoC, he said.
Around 8,000 people were temporarily affected due to the ceasefire violations and had to be shifted to safer locations.
Introducing a fresh chill in ties between the two neighbours, Pakistan had earlier this month said the bilateral peace process stands "suspended" while indicating that it
would not allow Indian investigators looking into the Pathankot air force base attack to travel there.
Meanwhile, in Islamabad, Pakistan army accused India of resorting to firing across the LoC in the Neza Pir sector.
The Pakistan army said, "Heavy unprovoked firing and shelling" started at around 11:40 pm on Saturday and went on until about 4:45 am.
It said that Pakistan army troops provided a "befitting reponse" to the firing. No loss of life or property has been reported so far, according to Pakistan army.
The two countries had agreed to border ceasefire in 2003. The ceasefire violation could have been aimed at aiding an infiltration bid by terrorists, the senior officer said.
"We have received inputs that heavily-armed terrorists are waiting at various launching pads to infiltrate across either the IB or LoC and today's ceasefire violation could have been aimed at aiding such a bid," the officer said.
Shortage of manpower and weapons has become a major concern for the militant leadership across the border and it is waiting for an opportunity to push militants and weapons into the Indian side, he said.
"The discovery of a cross-border tunnel this year shows how desperately they (militants) have been trying to infiltrate," the officer added.
Army, meanwhile, said that to minimise the loss of lives on the Indian side in the event of a ceasefire violation by Pakistan, concrete bunkers are being constructed along the International Border which can each hold over 500 persons.
Data till September 30, 2015, shows that over 92 infiltration attempts were made by militants, the officer said, adding that "some of the attempts were successful while one led to the capture of Mohd Naved Yakub, who was part of a fidayeen mission that attacked a Border Security Force convoy in Udhampur".