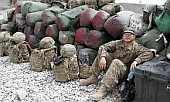 The issue of the United States pullout from Afghanistan next year and the likely scenario of re-emergence of Taliban dominated the talks between India and China as part of their two-day annual counter-terrorism dialogue in Beijing on Thursday. Besides counter terrorism issues, the dialogue included topics relating to cyber security, according to official sources.
An Indian delegation led by additional secretary in the ministry of external affairs, Navtej Sarna, held talks with his Chinese counterparts on the first day of the talks.
The dialogue, held since 2002, has become a key platform for the two countries to exchange views on raft of issues relating to terrorism that has emerged as a major threat to both the countries. The dialogue followed last month's meeting between Prime Minister Manmohan Singh and China's new President Xi Jinping in Durban on the sidelines of the BRICS Summit.
Also National Security Advisor Shivshankar Menon is expected to visit Beijing in the coming weeks to establish contacts with his new counterpart for the special representatives talks on the boundary dispute.
Former foreign minister Yang Jiechi has been appointed as the state councillor succeeding Dai Bingguo but he was yet to be officially designated as China's special representative for boundary negotiations with India.
Officials also say dates are being worked for Defence Minister A K Antony's visit besides preparations for joint military exercises to be held in China later this year. This year's counter terrorism talks assumed significance as it is being held amid concerns among the regional countries over the US and North Atlantic Treaty Oorganisation troops pullout from Afghanistan.
China showed interest in trying to coordinate with India on this issue as New Delhi too is seriously concerned over the return of the Taliban as well as al-Qaeda groups to challenge the Hamid Karzai regime in Kabul once the US troops leave the country.