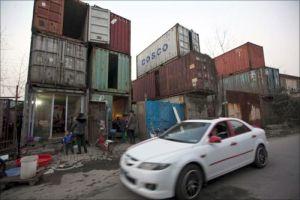 The 34 surviving Sikhs from Afghanistan, who were rescued from an airtight shipping container in the UK after an 18-hour ordeal, have sought asylum in the country.
A 40-year-old man who did not survive the journey has been identified as Meet Singh Kapoor from Kabul.
Police said that homicide inquiries will continue after a post-mortem examination carried out on Kapoor yesterday proved inconclusive.
The four people remaining in Southend hospital were discharged on Tuesday.
The group included 13 children, one as young as an-year-old, and were found screaming and banging after arriving at Tilbury docks in Essex from Belgium.
They have now finished speaking to the police and are being cared for by Home Office officials and are in the process of applying for asylum, Essex police said.
A Home Office spokesperson said: "We are continuing to provide expert support, along with the National Crime Agency, to the Essex police investigation into the discovery of 35 people in a container at the port of Tilbury on Saturday."
"This tragic incident is a reminder of the devastating human consequences of illegal migration and we will do all we can to help bring those responsible to justice," he said.
"All 34 are now in the process of claiming asylum in the UK and we are providing accommodation and support to those who require it while their cases are considered," he added.
"Kamaljit Singh Mataharu, a translator used by the police, told ITV News Monday evening that the group believed they would have died if they remained trapped in the container any longer.
They told him: "It was pitch black, without any air. It soon became extremely uncomfortable."
Mataharu said there were 15 families, all from Kabul, packed into the container after they had travelled to Europe in a lorry.
Belgian police earlier indicated that they believe the immigrants were probably already inside when the container was delivered to a European port before setting sail for Britain.
The Sikh families are believed to be escaping persecution in Kabul as a minority faith.
Bhai Amrik Singh, chair of the Sikh Federation (UK), said: "It is a disgrace the persecution of the tiny minority of Sikhs from Afghanistan has largely been ignored and it takes an incident like this to remind us all that they are also being exploited by human traffickers."
Image used only for representational purposes
© Copyright 2020 PTI. All rights reserved. Republication or redistribution of PTI content, including by framing or similar means, is expressly prohibited without the prior written consent.