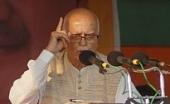 Bharatiya Janata Party's Delhi unit chief Vijay Goel on Saturday created a flutter with his remark that the next government at the Centre will be formed under L K Advani's leadership, a statement that comes amid growing clamour in the party to project Gujarat Chief Minister Narendra Modi as its prime ministerial candidate.
"The next government at the Centre will be formed under the leadership of L K Advani and nobody else," he said while addressing a function in the presence of Advani and party president Rajnath Singh.
Goel later sought to downplay his remark, saying what he meant was that the next government will be formed under Advani's guidance.
He eulogised former prime minister Atal Bihari Vajpayee and Advani in his speech, saying they had guided the party since its inception. While Vajpayee was unwell, he said, the party will seek Advani's guidance as it races ahead towards forming its own government in the next general elections.
Notwithstanding the recent praise showered on him by Samajwadi Party chief Mulayam Singh Yadav, Advani told BJP workers that they should not be apologetic for the Ayodhya movement and should be proud of it instead.
"When people believe and talk of our Ayodhya issue and agitate over it, you should not be apologetic over it, ever. You should take pride in it," Advani said.
Addressing party workers at the BJP headquarters, Advani said he felt pride in admitting that his party raised the issue of Ram temple and Ayodhya, as it was not just a political outfit but also a cultural one.
The BJP veteran said one should "speak the right thing" to gain the people's trust and cited the example of Samajwadi Party chief Mulayam Singh.
"Recently, when people heard Mulayam Singhji praising me, they thought what is he saying and doing? I feel if you speak the right thing, the world will accept it. You should not hesitate. Don't ever allow that inferiority complex," he said.
The Samajwadi Party supremo, when asked about his praise of Advani, had said that those leaders who had done good work or are doing so should be appreciated.
Advani said he has no objection to those who believe that the BJP attracted more supporters by raising the Ayodhya and Ram temple issue, but added that he could not complete the Ayodhya Yatra as he was arrested before reaching Ayodhya.
"People say that the BJP and the Bharatiya Jana Sangh achieved this position by raising issues like Ayodhya and Ram temple. I feel proud in admitting this and say that ours is not just a political movement but also a cultural movement," he said.
Advani exhorted partymen not to compromise on the issue of corruption and show strength and courage while dealing with it.
He asked them to prove those detractors wrong who had accused the BJP of being a "party of differences and not a party with a difference".
"Today, those who speak against us, say that you are a party with differences and not a party with a difference. You should prove them wrong. You can do so only if there is nothing wrong in your conduct. It should be uncompromising," Advani said.
He said Hindu, Bharatiya and Indian were synonyms and Hindutva, Bharatiya and Indianism are synonymous with each other.
In his address, BJP president Rajnath Singh said if voted to power, the party will strengthen state governments further through the de-decentralisation of power.
This, he said, was to strengthen all state governments, be it those led by BJP or non-BJP parties like the All India Anna Dravida Munnetra Kazhagam or the Biju Janata Dal.
Singh criticised the UPA government for doling out heavy tax concessions to corporates and taking away the subsidies of farmers.
The BJP president also criticised the government for the decontrol of the sugar industry by giving them concessions to the extent of Rs 5,500 crore.