The Congress on Wednesday asserted that the only way to comprehensively investigate the Adani issue is through a Joint Parliamentary Committee (JPC) and claimed that the Supreme Court-appointed expert committee would be a 'clean chit' panel for the government.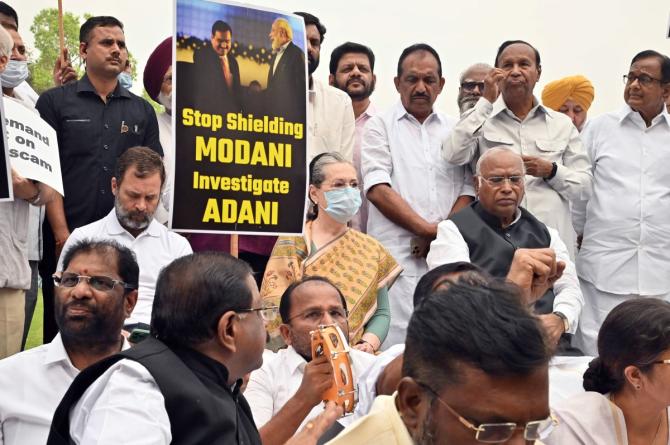 Congress general secretary Jairam Ramesh claimed the government wants the demand for JPC to be taken back and in return it would take back the demand for apology over Rahul Gandhi's remarks in the United Kingdom.
He said there was no question of an apology and the demand for JPC is non-negotiable.
Addressing a press conference as the party's total questions asked under its 'Hum Adani Ke Hain Kaun' initiative reached the 100-mark, Ramesh said the party has previously posed 99 questions to Prime Minister Narendra Modi since February 5 in connection with the Adani issue.
"We conclude the series with a final question asking whether you will act in national interest using the vast army of investigative agencies at your disposal," Ramesh said.
The Supreme Court-appointed Expert Committee appointed on March 2 unfortunately lacks formal jurisdiction over these agencies, he claimed.
"You have never hesitated to deploy them against the opposition, civil society and independent businesses. We now appeal to you, with some irony, to use them as they are intended, to investigate the most brazen case of corruption and cronyism the country has witnessed since 1947," Ramesh alleged.
"While we pray that the Supreme Court's Expert Committee produces a fair and thorough investigation of the 'Adani Scam', we note that it lacks jurisdiction over the investigative agencies mentioned above, and that its scope does not include examining cronyism and your political interference in governance aimed at 'enriching' your friends," he said.
The answer is clearly a JPC to examine all relevant aspects of this scam, as both Indian National Congress and the Bharatiya Janata Party-led governments have in the past agreed on to investigate major cases of stock market manipulation, he asserted.
© Copyright 2023 PTI. All rights reserved. Republication or redistribution of PTI content, including by framing or similar means, is expressly prohibited without the prior written consent.