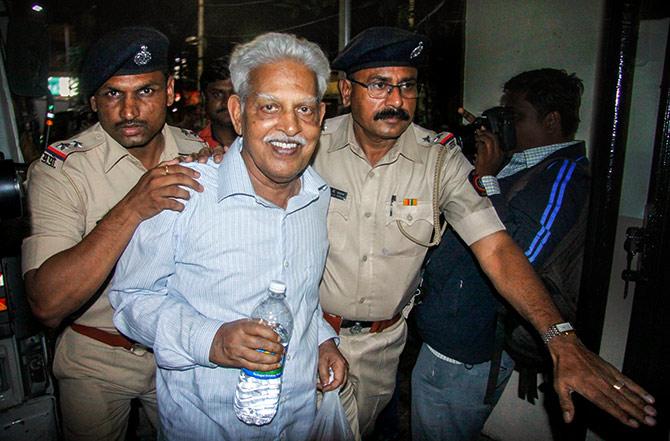 A Pune court on Sunday granted an extension of a 90-day period for filing a chargesheet against five persons arrested in June for alleged Maoist links.
The court of special Unlawful Activities (Prevention) Act judge KD Vadhane granted the extension sought by Pune Police, said Assistant Commissioner of Police Shivaji Pawar, the investigating officer in the case.
"We approached the court, saying the investigation in the case is in progress and sought an extension of 90 days for filing the chargesheet," the officer said.
The Pune Police had moved the court Saturday for extension of the 90-day period for filing chargesheet against the five persons, citing fresh arrests in the case.
Police had arrested Sudhir Dhawale, Rona Wilson, Surendra Gadling, Shoma Sen and Mahesh Raut in June while probing the alleged Maoist connection to the Elgar Parishad conclave held in Pune on December 31 last year.
Inflammatory speeches at the event led to violence at Koregaon Bhima near Pune next day, police had alleged.
"The period of their judicial custody of 90 days is coming to an end on September 3. With the fresh five arrests in the case, probe is still going on," Pawar said.
On August 28, police arrested five more Left-wing activists: Vernon Gonsalves, Arun Ferreira, Varavara Rao, Sudha Bharadwaj and Gautam Navalakha from different places in the country.
The Supreme Court had ordered that the five be kept under house arrest till September 6.
In ordinary cases, police have to file chargesheet within 90 days of arrest, otherwise the accused can get bail.
Under UAPA, which is invoked in the case, if the investigation is not completed within 90 days, the period for filing chargesheets can be extended up to 180 days, Pawar said.
Meanwhile, officials of the Yerawada Central Jail, where all the five activists arrested in June are lodged, had moved an application before the court in mid-July, seeking permission to shift all the accused to another prison citing "security reasons".
The court is likely to give its judgment on the application on September 6.
© Copyright 2023 PTI. All rights reserved. Republication or redistribution of PTI content, including by framing or similar means, is expressly prohibited without the prior written consent.