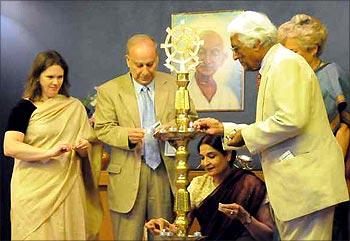 Educator, director, actor and activist Manjula Kumar has been awarded the Mahatma Gandhi Memorial Foundation's Fellowship of Peace Award.
At a ceremony on June 12 in uptown Washington, DC, she was described as someone who 'through her numerous productions, worked tirelessly to build bridges of cross-cultural understanding between diverse communities, and expresses the notion of the fellowship of peace through every artistic endeavour.'
Kumar has been with the Smithsonian Institution since 1985 when she came as part of the Festival of India Programme.
Carrie Trybulec, director, Gandhi Memorial Center, said Kumar's work "directly brings the creative expressions of humanity through the arts to a diverse community greatly expanding our horizons of understanding across all perceived boundaries".
Kolkata-born, Delhi and London-educated Kumar was presented with a plaque sculpted by local artist Perry William Carsley, who has also contributed to the sculpture of the World War II Memorial on the Washington Mall.
Present at the ceremony were two past recipients of the award: Ambassador Akbar Ahmed, Ibn Khaldun Chair of Islamic Studies, American University, Washington, DC; and noted photo-journalist and community icon Rajan Devadas.
Ahmed, a former Pakistani high commissioner to the United Kingdom, spoke of his close association with Kumar on his play The Trial of Dara Shikoh, which she directed and performed.
Srimati Kamala, founder and former director, Gandhi Memorial Center, and now president of the Mahatma Gandhi Memorial Foundation, said, "Without exaggeration, I can say that Manjula and [her husband] Viren have considered this abode dedicated to Mahatma Gandhi's life message to be worthy of their ideal. Through the Smithsonian Institution, through the Global Performing Arts founded by you, through your tireless efforts with the [Washington, DC] International Film Festival programmes, you have expanded, educated, joined and uplifted the lives of many, many people from many cultures."
A visibly emotional Kumar lauded Ahmed, saying, "I call him my Emperor Akbar. He made me into Shehzaadi Jahanara and made me feel royal. We have common ideals, a strong belief in interfaith and I greatly admire his relentless pursuit of peace through education."
She added, "In reality, this award is an expression of the generosity and deep humanity of Kamalaji…who understands the seriousness of the role the arts play in our lives."
Peace, she asserted, "is not passive; peace is active, it is a participation, it is an action. As a cultural activist, I strongly believe in education of the arts and through the arts I feel blessed that I can indulge in my passion for dance, drama, music, poetry, literature, cinema, and still call it work!"
"Today," she continued, "we live in a complex, commercialised, highly politicised world. A world of Twitter, Flickr, Blackberries, and anybody and everybody is a blogger. But, however, exciting this sounds, we must not lose the human touch, the human care and concern."
The programmes she has produced for the Smithsonian include Rajasthan: Land of Valour, Legend and Romance, a six-part series celebrating the arts of the state and the controversial Scheherazade Goes West: Shattering the Stereotypes, which analysed the role of Muslim women in modern society.
She also presented the Complete Satyajit Ray: Cinema Through the Inner Eye, the first retrospective in the United States of the works of the master director. Kumar has produced, directed and acted in plays in different languages. As a programme advisor and juror with the Washington, DC International Film Festival, she curated many Indian film programmes including premier screenings of Deepa Mehta's controversial trilogy, Fire, Earth and Water. Kumar was also the catalyst behind establishing the annual Indian Visions festival.
Image: Carrie Trybulec, Akbar Ahmed, Manjula Kumar, Srimati Kamala and Rajan Devadas