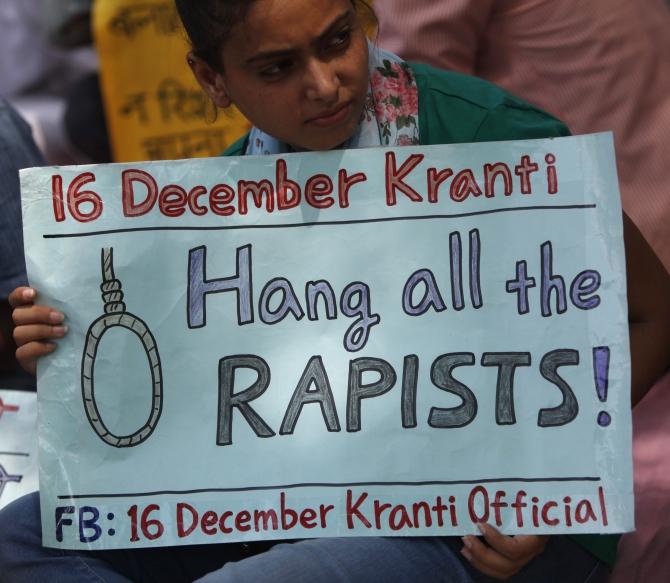 A young activist who screened the banned BBC documentary on December 16 gang rape for a small audience in an Agra village was questioned by police who seized his computer equipment and sent it for forensic examination.
The acid attack activist, Ketan Dixit, said he was on Monday questioned for several hours at the Burhan police station in this regard.
He on Tuesday clarified that he had not been arrested.
Dixit said police impounded his computer equipment -- a makeshift screen made of white bedsheets, a simple projector and a laptop -- using which he screened the documentary India's Daughter in a remote village of Roop Dham in Etmadpur tehsil.
SHO B Mishra from Burhan Police Station said police were waiting for orders from senior officials.
SP (protocol) Ashok Kumar Tripathi said police were probing the matter and waiting for instructions from the headquarters.
Police officials said it was not yet clear under what sections a case could be registered as there was no specific notification available so far.
They said the laptop and the bedsheets that were used for screening the film were seized and sent for forensic examination.
Dixit, who is associated with Stop Acid Attack campaign, said his act was a "mark of protest against the ban".
"The 80-odd audience evinced keen interest and asked searching questions. A 70-year-old lady Meera said she found nothing objectionable in the documentary," Dixit said.
He said that he was considering filing a petition to challenge the government's decision of banning the screening of the film. A Facebook page has also been launched to lodge protest against the ban, he said.
"We have a plan to show sensitive art films in the rural areas to raise awareness level and mobilise people for self help. The screening of the banned documentary was also part of this plan," he said.