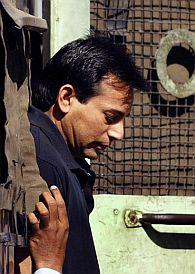 A special Central Bureau of Investigation court in Hyderabad on Thursday awarded seven-year rigorous imprisonment to extradited gangster Abu Salem in a fake passport case.
The 3rd special court Judge for CBI cases, M V Ramana Naidu had on November 18 held the underworld don guilty under different sections of Indian Penal Code (IPC) for obtaining a passport under a fictitious name and address, from Kurnool district of Andhra Pradesh.
Salem, convicted earlier for criminal conspiracy and cheating under the IPC, was sentenced to seven years rigorous imprisonment (RI) and fined Rs 1,000 for each of the charge.

Salem, also convicted on the charge of forgery for the purpose of cheating, was sentenced to one year RI, and also slapped with Rs 1,000 fine.
He was also sentenced to one-year RI each on the charges of cheating by personation and for using as genuine a forged document of the IPC.
All the sentences will run concurrently.
"Salem has completed a term of around six years of imprisonment in the case," CBI's senior public prosecutor T V Ramana said.
Salem was present in the court when the judgment was pronounced.
After the verdict, he was taken back to Mumbai by the jail authorities there.
Salem had procured the fake passport under the fictitious identity of Ramil Kamil Malik by submitting forged documents to the Hyderabad Regional Passport Office, in connivance with some government officials and private persons in 2001.

In total, Salem obtained three passports --one for his first wife Sameera Zumani, another for his companion and actor Monica Bedi, apart for himself.
Salem and Bedi were arrested in Portugal and extradited to India in 2005.
The fake passport case was transferred to CBI from AP police in October 2002, and a charge sheet was filed in 2004 against 10 accused.
While seven of the total accused faced trial, two had been acquitted. The trial against the gangster began in Hyderabad in 2009. Three accused are still absconding in the case.
Meanwhile, the defence said they will apeal against the order in the Andhra Pradesh high court.