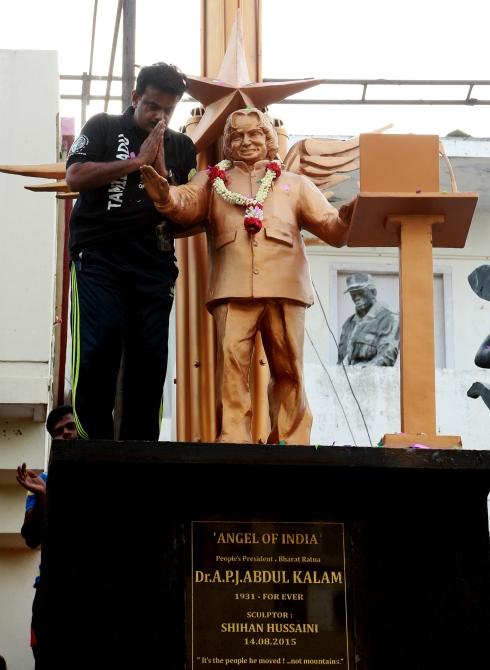 Shihan with the statue. Photographs: Ramesh Damodaran
Martial expert, archer and sculptor Shihan Hussaini Hu was recently in the news when he crucified himself for Tamil Nadu Chief Minister Jayalalithaa's release from jail. Earlier, he had sculpted a bust of Jayalalitha in his blood. But this time, there were no dramatics, no blood, no sensationalism in his act; only pure love and respect. He worked day and night to sculpt a life size statue of the man the entire India also loved and respected; Abdul Kalam. Shobha Warrier reports
"I can never forget his surprise visit to the Fine Arts College in Chennai to see my painting exhibition. He was passing by and when he came to know that a painting exhibition was going on, so he just dropped in. He was a lover of art. Strangely, it was the very evening that he was nominated to be the President of India. I was so inspired by him that it pained me a lot when he did not become India's President the second time. I somehow felt mentally connected to him," Hussaini spoke of his first meeting with the 'people's President'.
When the news of Kalam's death came, the sculptor in Hussaini wanted to immortalise him like when he had done a huge sculpture of the first Indian-American astronaut Kalpana Chawla.
"That very moment itself, I started my first drawing of Kalam. On July 30, the moment he was buried in Rameswaram, I started my work on the sculpture. When the first salute was given, I hammered the first nail to the wood. As you know, making of a sculpture starts with a wooden skeleton. It was symbolic for me; when his body was lowered into the grave, I started my work to immortalise him."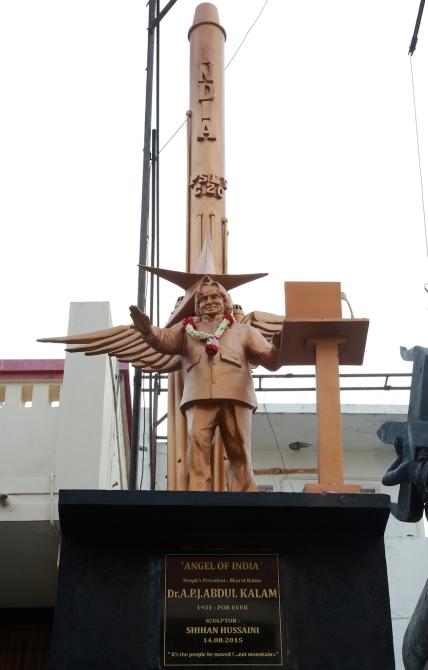 Hussaini's intention was to create a life size sculpture of Kalam (5ft 5inches) that symbolises his character, that of a teacher who inspires the young of India. Like his book, Wings of Fire, he gave Kalam angelic wings and as he was known as the Missile Man, there was a 25ft high PSLV rocket behind him.
Because of his desire to unveil the statue on August 14 evening, he worked non-stop for 15 days with just an hour or two of sleep everyday and the statue was ready on time.
"First, I had to create a wooden structure, then pack it with paper before doing a clay work on it. After that, a plaster of Paris mould, then a fibre cast followed by a wax cast and finally the bronze one. It was very expensive too. I spent Rs 13 lakh to make the entire sculpture. In fact, on the last day, I went and pawned my wife's car to complete the sculpture. I don't care about money; it was my passion to immortalise the man I adored," he says.
Hussiani wants the sculpture to inspire youngsters like Kalam did when he was alive.
"He loved standing on a podium and talking to youngsters. He died doing that too. That's why I created the 'Kalam Idea Podium' where I want youngsters to come and talk about new ideas. Like the Ted Talks, I want to start a Kalam Idea Talk. In my sculpture, Kalam is standing next to the podium and I want youngsters to come and stand next to him and talk about new ideas. I want new ideas to spring from the Kalam Idea Podium, for the country," he beams.