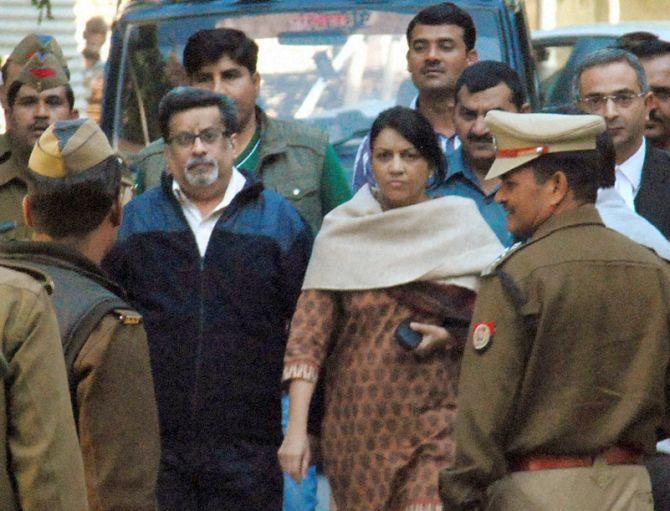 The Allahabad high court on Monday granted three-week parole to Nupur Talwar, serving life sentence along with her husband Rajesh for the murder of their teenage daughter Aarushi and domestic help Hemraj.
A division bench comprising justices B K Narayana and A K Mishra ordered the release of Nupur for three weeks following her plea that she be granted parole as her mother was seriously ill and all her other siblings were abroad.
The court granted the parole observing that she may be allowed to take care of her ailing mother until her siblings return to the country.
The Talwar couple, who were well-known dental surgeons based in Noida, were awarded life sentence by a special Central Bureau of Investigation court at Ghaziabad in November, 2013.
They were convicted for the murder of 14-year-old Aarushi, who was found dead inside her room at their Noida residence in May, 2008, and Hemraj -- who was initially suspected of being the killer until his body was found on the terrace of the house two days later.
The high-profile double murder case was handed over to the CBI by the then Uttar Pradesh Chief Minister Mayawati following an outcry over alleged shoddy investigation by the state police.
Photograph: PTI