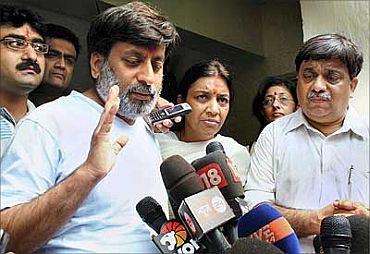 Dentist couple Rajesh and Nupur Talwar on Friday moved the Supreme Court challenging the Allahabad high court order refusing their plea to summon 14 witnesses in the Aarushi-Hemraj murder case trial.
The couple's appeal against the High Court order was mentioned before a bench comprising justices B S Chauhan and Dipak Misra which posted the matter for hearing on May 28. This the second time this month that they have knocked the doors of the apex court with the plea to summon additional witnesses, including Additional Director General of Police (law and order) Uttar Pradesh and then Central Bureau of Investigation Joint Director Arun Kumar to record their statements.
They have challenged the dismissal of their petition by high court's May 21 order which had said: "There is no need to force the prosecution to call witnesses other than those it deems proper."
The high court was of the view that the trial court had the right to decide which of the witnesses should be summoned and their statements recorded. The couple had moved the high court after the apex court on May 13 had refused to entertain their petition after taking strong exception to Talwars directly challenging the trial court's order before it.
The apex court bench had asked them to approach the high court saying it was a wrong procedure to approach the Supreme Court directly. While the Talwars are seeking legal redressal at higher courts, the trial court is going ahead with its proceedings in which they are facing trial in the murder case of their teenaged daughter Aarushi and domestic help Hemraj.
The trial court had dismissed their petition on May 6 and ordered recording of statements of Rajesh and Nupur, who are the main accused. The statement of the CBI Investigating Officer AGL Kaul, the last prosecution witness, has already been recorded.