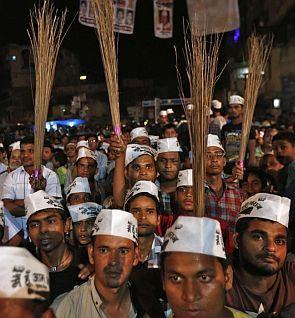 The Aam Aadmi Party office in suburban Andheri was on Saturday allegedly vandalised by a group of some 20-25 persons with the party claiming that the attack was the handiwork of the Nationalist Congress Party.
"AAP Maharashtra office attacked by NCP goons," AAP said in a tweet.
According to AAP volunteer Paritosh, the vandals entered the second floor of their office located at Chakala in Andheri and tore up and burnt the poster of AAP leader Arivind Kejriwal.
The vandals threw black ink bottles all over the office and damaged party banners, he said, adding that the attackers also used filthy language and shouted slogans.
"Police had to intervene and take them away," said Paritosh.
AAP will file an FIR in connection with the attack and also submit with police the CCTV footage at its office, he added.
Police sources said that the group entered the AAP office at around 2:30 pm.
Meanwhile, NCP spokesperson Nawab Malik told PTI that they were "seeking the details of the incident".
The alleged attack comes two days after AAP leader Anjali Damania attacked Maharashtra Deputy Chief Minister Ajit Pawar saying that Mumbaikars were paying high electricity bills due to corruption and the inefficiency of the state power ministry and the distribution companies.
"In the past three years, due to corruption, mismanagement and inefficiency of the state power department, Maharashtra has incurred losses of up to Rs 22,000 crore," the AAP leader had alleged.
Meanwhile AAP leader and candidate for Lok Sabha polls Mayank Gandhi, who was on his way to the NCP office in Juhu to protest the attack on his party's office, was detained by police in Andheri.
Gandhi said AAP volunteers are now at MIDC police station and "we are not leaving the police station till they allow us to sweep the NCP office."
Image: AAP workers seen outside the party headquarters in Kaushambi