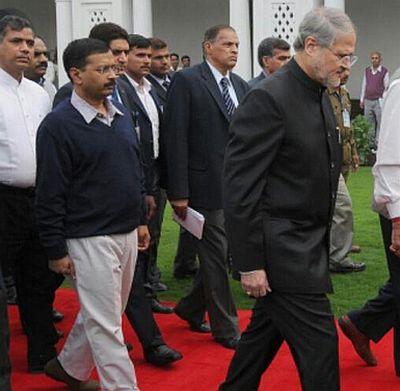 The Aam Aadmi Party on Thursday alleged that Lieutenant Governor Najeeb Jung's role in New Delhi Municipal Council official MM Khan case was "suspicious" and demanded that action be taken against him.
"His role is suspicious in the case. Why had he written to NDMC seeking action against Khan? We demand that the LG be arrested and sacked from his position," AAP's Delhi Unit Convener Dileep Pandey said at a press conference.
"We also demand that the Delhi police should stop reporting to the LG and report to ministry of home affairs," he added.
It has come to light that a day after Khan was murdered for allegedly refusing to take a bribe from Delhi hotelier Ramesh Kakkar, Jung's office had purportedly sent Kakkar's petition against Khan to NDMC asking for "action as per law".
Khan, an estate officer of NDMC, was shot dead in Jamia Nagar a day before he was scheduled to pass the final order on the lease terms of hotel The Connaught which was functioning on a property of the civic body, on May 16.
AAP leader Raghav Chadha claimed Jung's office had on May 11 forwarded a letter sent by Bharatiya Janata Party MP Mahesh Girri, "in favour of" Kakkar, to the NDMC for necessary action.
Girri had denied the allegations levelled by AAP against him. Chadha said Jung had no jurisdiction in the matter when the high court had given Khan, the NDMC estate officer, the authority to take a call on the issue.
"On May 17, Jung sent another letter to the NDMC, a day after Khan's death demanding action against him. The letter content also had the name of the hotel and asked to take necessary action," he claimed.
"Girri, (NDMC vice-chairman Karan Singh) Tanwar and LG ... should be immediately arrested and interrogated. It also comes to mind whether they have a common boss who is directing the whole scene," Chadha said.
© Copyright 2022 PTI. All rights reserved. Republication or redistribution of PTI content, including by framing or similar means, is expressly prohibited without the prior written consent.