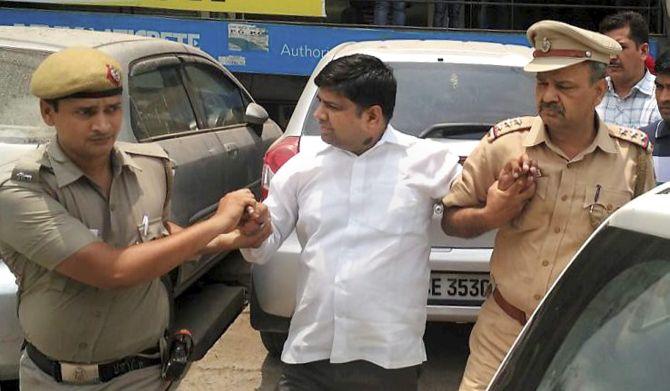 A day after two of its members of legislative assembly were arrested, the Aam Aadmi Party on Monday said it will approach the Delhi high court soon with details of all 'false' cases 'framing' its lawmakers and accused the Centre of clamping an 'undeclared emergency' in the city.
Alleging that AAP MLAs are being arrested under a 'conspiracy', party's Delhi convenor Dilip Pandey said a writ petition will be filed in the Delhi high court with a compilation of 'false' cases slapped against them.
"There is an undeclared emergency in Delhi by the Centre. It will not deter our government. None of the AAP MLAs, ministers and workers will be scared by these acts," Pandey said.
On Sunday, the Delhi Police had arrested Okhla MLA Amanatullah Khan in connection with allegations by a woman that he had tried to mow her down with his car while Mehrauli MLA Naresh Yadav was arrested by Punjab Police in connection with the alleged Malerkotla sacrilege incident.
Eleven AAP MLAs have been arrested by the Delhi Police and their Punjab counterpart in different cases since the party came to power in Delhi for a second time in February last year.
Attacking Prime Minister Narendra Modi, Pandey said arresting AAP's MLAs reflects the Bharatiya Janata Party's 'political bankruptcy' and 'cowardice'.
He claimed since the party came to power, one MLA has been arrested on an average every month.
"We still have 55-56 more MLAs. Modi ji can arrest them all. They are already using the Delhi and Punjab police for this year. Now they can also deploy Gujarat and Goa Police for arresting AAP MLAs," Pandey said.
Reacting angrily to arrest of the two MLAs, Chief Minister Arvind Kejriwal had said the AAP government and the BJP-ruled Centre are locked in a 'holy war', like the 'Kauravas and Pandavas'.
He also dared Prime Minister Narendra Modi to stall the development of Delhi.
AAP's Seemapuri MLA Rajendra Pal Gautam said there is a pattern in the cases filed against his party MLAs.
He said between filing of the complaint till registration of an FIR different statements are given.
"There is a conspiracy to muzzle the voice of the Delhi government and its MLAs," he alleged.
"We are approaching the cases. We have gathered most of our cases and prima facie it can be said that this is done under a conspiracy. The way cases are registered and the MLAs are arrested reveals there is a conspiracy behind it," he said.
Gautam said if the police wants to arrest an MLA then theycan give a notice under Section 160 of the Code of Criminal Procedure.
"Arrest them if there is a case. But arresting MLAs using 300 policemen or picking them up from a press conference shows everything is being done under someone's instructions. We will tell the high court the way people's representatives are being framed in wrong cases.
"We will also tell the court the way Delhi government is being destabilised under a conspiracy," Gautam said.