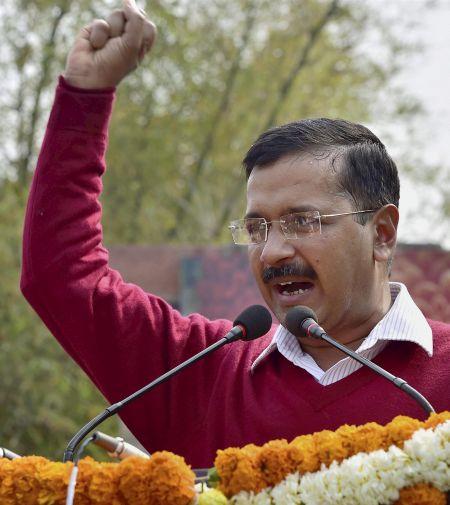 Delhi Chief Minister Arvind Kejriwal. Photograph: PTI

The Aam Aadmi Party government has delivered on its big ticket poll promises made to Delhi, two weeks after forming the government.

The Kejriwal-led government announced cheap power and launched a free water scheme. It slashed power tariff by 50 per cent for consumption up to 400 units per month, which will benefit around 90 per cent of the Delhiites in the city.
The decision was taken at a cabinet meeting presided over by Chief Minister Arvind Kejriwal. The cut in tariff will be effective from Sunday.
Deputy Chief Minister Manish Sisodia also announced that government will also provide 20,000 litres of free water to every household per month. However, water tariff will be charged if the consumption limit exceeds 20,000 litres. The free water scheme will come into force from March 1.
Sisodia said consumers getting free water will not require to pay for sewer charges.
On the free power scheme, Sisodia said government will review the power rates after CAG completes audit of the accounts of the power discoms.
In its manifesto, the AAP had promised to cut power tariff by 50 per cent immediately after coming to power. It had also promised 20 kilolitres (20,000 litres) of free water to every household per month. The previous AAP government had introduced the free water scheme but it was discontinued after it quit.
© Copyright 2022 PTI. All rights reserved. Republication or redistribution of PTI content, including by framing or similar means, is expressly prohibited without the prior written consent.