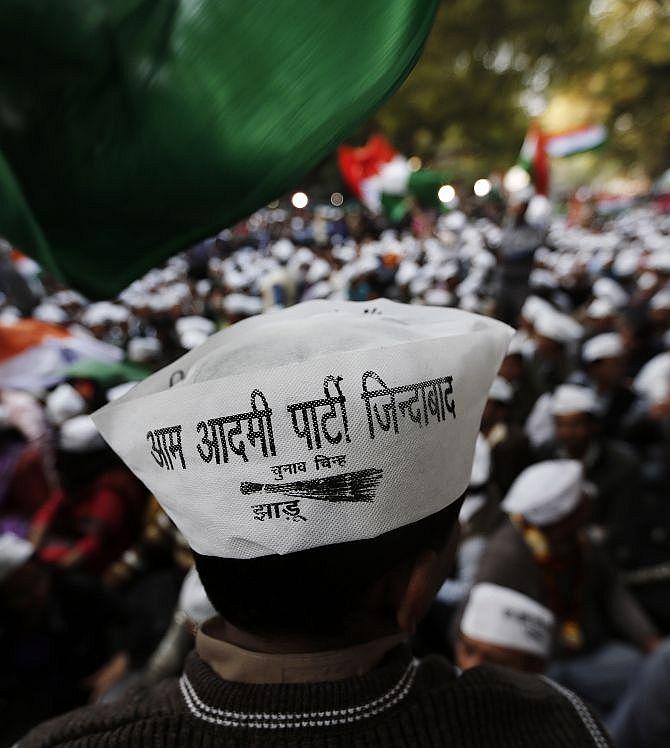 In continuing purge of dissidents, AAP has suspended two of its National Executive members from the party for attending a press conference held by rebel leaders Yogendra Yadav and Prashant Bhushan immediately after they were expelled from the top echelons of the party.
The party sent the suspension notices to Uttar Pradesh leaders Rakesh Sinha and Vishal Sharma Lathe for openly coming out in support of Yadav and Bhushan.
Incidentally, Sinha who is an elected National Executive member, raised questions over the way its internal Lokpal Admiral L Ramdas was sacked and Bhushan was removed as the chief of its disciplinary committee.
Lathe had voted against the resolution to sack Bhushan and Yadav from Political Affairs Committee (PAC) on March 4.
Sinha and Lathe slammed the leadership for taking the punitive action against them without giving them any opportunity to explain their position.
Both the National Executive (NE) members were present in a press conference held by Bhushan and Yadav on March 28 after the duo was expelled from the party's top decision-making body.
A senior AAP leader said the punitive action has been taken against the two UP leaders of the party for attending the press conference.
"Based on the complaint received by National Disciplinary Committee, and the discussion on it by the members of NE, NE has decided to suspend your primary membership pending disciplinary proceedings," an e-mail from party secretary Pankaj Gupta to Lathe said.
"On March 14, (senior party leader and UP in-charge) Sanjay Singh had come to Moradabad and asked me to vote in favour of resolution seeking removal of Prashant Bhushan and Yogendra Yadav from the National Executive at March 28 National Council meeting," Lathe said.
The party constitution has the provisions of having co-opted members, who also have voting rights.
Lathe is one of the three co-opted members in the NE, representing Uttar Pradesh, but has one vote. The state has three zones -- Rohilkahnd, Bundelkhand and Poorvanchal. Every region has a right to vote, but the majority vote prevails, which is counted as one.
"On March 4, I had voted against the resolution seeking explusion of Prashant Bhushan and Yogendra Yadav from the PAC. At that moment, I knew I had committed a political suicide," Lathe said.
Sinha, a party leader from Uttar Pradesh, had also accused the AAP leadership of taking the decisions to remove Ramdas and Bhushan in a hurry from the two crucial posts and without due consultations of all members of the National Executive.
In a letter to the party secretary Pankaj Gupta on March 30, Sinha had questioned the sacking of Bhushan and Yadav from the National Executive without referring the case to the party's internal Lokpal as per norms.
Incidentally, Sinha was not invited for the emergency NE meet on March 29 called at Delhi Chief Minister Arvind Kejriwal's residence.