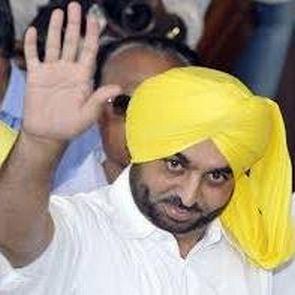 The police on Saturday detained the Aam Aadmi Party Member of Parliament Bhagwant Mann and several party workers ahead of a farmers' meeting at Doliya in Bhavnagar district of Gujarat.
"We have detained Mann and other AAP leaders with around 60 workers as they were going to hold a public meeting without permission," Superintendent of Police Dipankar Trivedi said.
Those detained also included AAP Member of Legislative Assembly from Delhi Gulabsingh Yadav and Gujarat AAP leader Kanu Kalsaria. The spokesperson of AAP's Gujarat unit Harshil Nayak said that Mann and others were detained four km from the venue.
Mann, MP from Sangrur in Punjab, earlier told reporters that they were informed after idnight that they were denied the permission to hold the rally. He termed the Gujarat model as 'model of Hitler'.
"Farmers' situation is pitiable everywhere in the country, whether in Vidarbha, Punjab or Saurashtra. They are committing suicide every day. I have come here to see how the farmers of Mahuva are suffering as they do not have irrigation and electricity," Mann told PTI.
"I had heard a lot about Gujarat model. I thought it was a model of progress and development, but when I came here I found out that it is nothing but a model of Hitler. We were not granted permission to hold our rally, our tents were removed at night. If this is Gujarat model, it is very dangerous for the democracy," he said.
When asked who he referred to with the term Hitler's model, Mann said, "Who was the ruler of Gujarat for a long time? Who showed us the dream of Gujarat model.... (Prime Minister) Narendra Modi saheb had done that....and now the same kind of politics is being implemented in the entire country for the last one and half years.
"People's voice is being throttled on Sardar Patel's birth anniversary. Sardar Patel merged the princely states into a democratic nation. But on his birthday, an autocratic diktat has been issued that you can't even hold a rally," he said.
"The cotton farmers are not getting the minimum support price. Before the elections Modi had said he will give MSP of Rs 1,500. The farmers are not getting half of the MSP. At least our PM should have signed an agreement for cotton sale with a foreign country," he said.