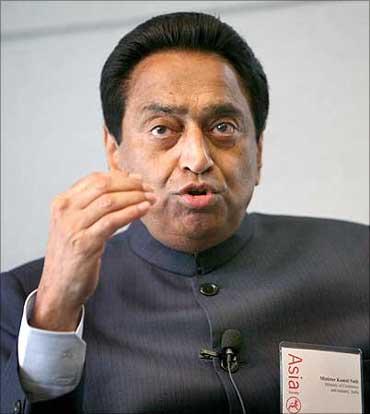 Allegations of a role in the 1984 anti-Sikh riots returned to haunt Kamal Nath, who has been appointed as Congress general secretary in-charge of Punjab, with the Aam Aadmi Party using it to attack him, while the veteran member of Parliament dismissed it saying he was 'absolved' of all charges by the Nanavati Inquiry Commission.
Citing documents, AAP leader and an advocate fighting for the victims of the 1984 riots, H S Phoolka, claimed that Nath was a part of the mob that attacked the Rakab Ganj Sahib Gurdwara in Delhi on November 1, 1984. Two Sikhs were also burnt to death in the attack.
"One Mukhtiar Singh, who is now the manager of Rakab Ganj Gurdwara, had filed an affidavit before the Nanavati Commission.
"He (Mukhtiar) states that Kamal Nath was a part of the mob that attacked Gurudwara Rakab Ganj on November 1, 1984. Kamal Nath too, in his affidavit before the Commission, accepts his presence on that day," Phoolka said, adding that by appointing Nath as the Congress in-charge of Punjab, the party has tried 'to rub salt into wounds' of the victims.
Hitting back, Nath dismissed as 'very motivated' AAP's charge insisting that Nanavati Commission has 'absolved' him of all charges.
"For 21 years, my name figured nowhere. There was no charge against me, no statement against me, no case against me. Nobody raised any voice in any manner about my participation in the riots," he told news channels.
Phoolka also said newspaper reports after the attack on the Gurdwara suggested his presence there.
"...On November 2, 1984 a national daily reported that Kamal Nath was leading the mob which attacked Rakabganj Sahib. On November 3, another national daily reported the same," he said, adding through this appointment, (the) Congress has conveyed that the party does not care about the sentiments of the victims.
"All that (the) Congress cares is about the people having lots of money and muscle power," he said.
Nath said AAP leaders were making the charge 'out of ignorance'.
"The Nanavati Commission's report is there on the Internet, free for anybody to read. And this was the Commission set up by the BJP government. The Akalis made no charges against me. This matter came up in Parliament on many occasions. They made no charge against me and now suddenly, this comes up so obviously this is very motivated," he said.
"I don't think (the) AAP knows what they are talking about. Nobody has ever made a charge...I think it will be easily dealt with," he added.
Poolkha said Nath's appointment also suggested neither the party nor Amarinder Singh, its chief ministerial candidate in Punjab, has any respect for law.
"Appointment of Kamal Nath as general secretary in-charge of state also reflects that the Congress party has no respect for law. It is not a secular party, but a party of hooligans," Phoolka said.
Senior AAP leader Sanjay Singh said the Congress in the past has protected leaders like Jagdish Tytler and Sajjan Kumar, whose names have cropped up in the anti-Sikh riots.
"This reflects the mindset of the party. Appointing Kamal Nath is like rubbing salt into the wounds of the riot victims," Singh said.
Responding to attack made by Delhi Chief Minister Arvind Kejriwal, Nath observed the charges were 'political' and intended at expanding AAP's base in the state that goes to polls next year.
"Since the party is contesting Assembly polls in Punjab I think the perception again is very clear. This is politics. Probably he is stepping in Punjab, so he has to dig up the issue. We will take up the issue, because it is clear, so crystal clear that there never has been any kind of involvement of mine," he said.
"We will deal with. There is no problem because it is very clear (that) for 21 years there was no charge as I said. I think it will be easily dealt with," the Congress leader said.
Kejriwal had on Sunday attacked the Congress on Nath's appointment, asking Amarinder if he has absolved Nath for his alleged involvement in 1984 anti-Sikh riots.
Attacking the Centre, Singh said it was because of a letter written by Kejriwal that 75 cases of 1984 anti-Sikh riots are being reopened just ahead of Punjab polls.
Singh also wondered if it was another jumla which the Modi government was coining ahead of Punjab polls and was the Centre serious in punishing those involved in the anti Sikh riots.
"The country wants to know whether the 75 cases, which are to be reopened have names of (Congress leaders) Sajjan Kumar, Jagdish Tytler, Kamal Nath, leaders of the Bharatiya Janata Party-Rashtriya Swayamsevak Sangh involved in the 1984 riots.
"Our party's stand is very clear. Those who have been involved in massacre and genocide...their place is not in politics, but behind the bars. After the 1984 riots, Rajiv Gandhi had said that a big tree falls, ground does shake. Appointing Kamal Nath reflects the mindset of the party, which has not changed since the last 32 years," Singh added.