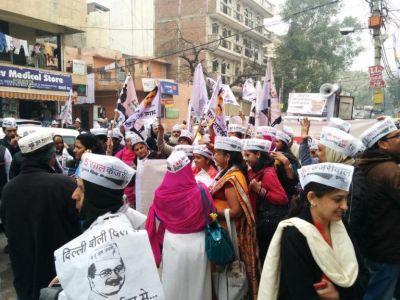 Aam Aadmi Party's eminent women supporters are backing the 'Swaraj Samwad' with a focus on women participation in politics. They also haven't given up on dreams of a united AAP. Upasna Pandey reports
Christina Samy, Aam Aadmi Party's Tamil Nadu convener, who quit the national executive earlier this month, told Rediff.com that she hopes that "whatever the mistakes, we can move forward together and not dig into what happened. I hope we can be challenged by our principles as a party instead of getting into a tussle. Women want to be part of that affirmative agenda." Christina is unable to participate in the Gurgaon event on Tuesday as she is recovering from an injury.
Samy insists that women supporters are satisfied with the Delhi government for taking up women's safety as a key initiative, but there are many other issues such as "mentality and attitude of men" that needs to be addressed, for long-term solutions.
She says that apart from the protest over the party's failure to uphold its founding principles and ignoring the volunteer's voice, it is "also disappointing to see that we are not conscious enough to bring in gender perspective in the party. It also includes the need to bring in more women into committees across the country, which isn't quite easy though."
A women's rights activist for over three decades, Samy points that "right consciousness and equal participation from women is a must for bringing in progress of women across the country."
She echoes the hope of women activists "for higher patience within the party to listen to the voices of women in the party."
Shefali Misra, another women rights activist and AAP Lok Sabha candidate from Sitapur, says "We need to see that Swaraj Samwad is not a referendum on AAP but an open dialogue to pave way for the agenda ahead, and women are keen on participating in this."
Shefali points that women issues, apart from the priority areas such as preventing crimes and building robust safety measures, also include higher participation of women in self-governance, at local and national level, and the need for a constant push on this "affirmative agenda." She believes that AAP has been successful in uniting women activists who are carriers this agenda, unlike other regional and national political parties.
Shefali added that many eminent women rights and social activists, such as Aruna Roy, Medha Patkar, Jinti Gogoi from Assam, tribal activist Soni Sori, Rachna Dhingra from Bhopal, Hema Mehra from Badaun, UP, have expressed their solidarity with the Swaraj Samwad platform.
Women activists have shown support as they want to be a part of the open dialogue but they say "a strong sentiment among volunteers is that the differences are resolved and they can continue to work within the AAP framework, and not seek a new or separate platform."
Over 100 candidates who had contested on AAP tickets in the Lok Sabha polls were also expected to attend the event.
Image used for representational purposes only