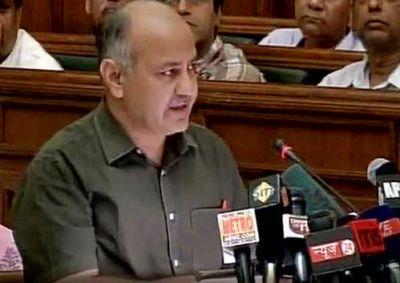 Terming Aap Aadmi Party government's maiden budget for the financial year 2015-16 as India's first 'Swaraj Budget', Finance Minister Manish Sisodia proposed to create a provision of Rs 253 crore under the Swaraj Fund Scheme.
AAP government held public meetings in 11 constituencies to know public requirements. About 50 public meetings were organised in each assembly constituency which were attended by voters of the area.
Sisodia said participative budgeting is a step towards democratic and transparent administration and management of financial resources which play a significant role in avoiding corruption and mishandling of public funds.
The finance minister mentioned the objective of participatory budgeting is to provide the right to the citizens in decision making so that utilisation of public funds may be according to their wishes.
"This budget is the first Swaraj Budget of India. Under this a new initiative 'Swaraj Fund' is proposed to be created enabling the citizens in selection and implementation of programmes prioritised by them for the development of their area.
"I propose a budget provision of Rs 253 crore under the Swaraj Fund Scheme. 'Swaraj Fund' means the fund of citizens. Swaraj fund is a new initiative in the history of budgetary process of India," he said.
Sisodia claimed that attempt was made to highlight this in the 73rd and 74th Constitutional Amendments, and some administrative measures were taken in this direction in some rural areas through village panchayat, but they haven't seen the light of the day.
He said that beginning of the Swaraj Fund will prove to be a distinctive milestone in functioning of real democracy in the country.
Each of the 70 assembly constituencies will be assigned a fixed amount in the coming years under Swaraj Fund, he said.
"Citizens decide their priorities of developmental works by a process of voting carried out in these meetings. To meet these requirements, an allocation of Rs 20 crore is proposed for each of the 11 Assembly Constituencies under Swaraj Fund," Sisodia said.
For the remaining 59 Assembly Constituencies, an amount of Rs 50 lakh each is proposed.
"The citizens of respective assembly constituencies will decide how this allocated amount is to be utilised in line with their requirements. The citizens will themselves decide the priority of implementation of these developmental works," Sisodia said.
He emphasised that the payment towards the developmental works will be made to the contractor upon completion, only after citizens of the area give consent regarding satisfactory quality of the work.
Government will implement it in all 70 assembly constituencies. However, in the first year this is being taken up in 11 Assembly Constituencies.