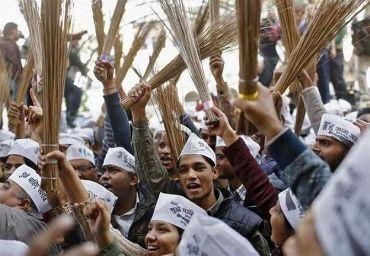 With its on-going nation-wide membership drive, Aam Aadmi Party on Tuesday claimed over 10 lakh people joined the outfit in the last five days.
The party also announced Adarsh Shastri, grandson of former Prime Minister Lal Bahadur Shastri, and former IPS officer Uday Sahay, have joined it.
The AAP had kick-started the membership drive campaign 'Mein Bhi Aam Aadmi' on January 10, with an aim of getting over 1 crore members by January 26.
Senior party leader Gopal Rai, who is over-seeing the national membership drive, said over 6.6 lakh people joined the party by giving a missed call on a mobile number followed by 4.5 lakh who registered as members through its website.
Over 1 lakh SMSes were sent to the (mobile) number and the rest of the people have joined the party by manually filing a form.
"We have finished training of our volunteers. We will soon start over 300 district camps and hold membership camps. Our volunteers will do door-to-door campaigining for getting more people to join the party," Rai said.
With the party receiving complaints that many people were not able to join it because of the busy mobile network, it announced two more mobile numbers (08082807715/08082807715) on which people can either send SMSes or call to become members.
Rai claimed the party has so far received support from across the country in its membership campaign but it got maximum support from North Indian states.
"We have received maximum support from Uttar Pradesh, Delhi, Haryana, Madhya Pradesh and Rajasthan. We have also received good response from Gujarat and Maharashtra," Rai said.
In the South, the party has received maximum support from Karnataka, particularly Bangalore city, followed by Tamil Nadu, Kerela and Andhra Pradesh.
Asked what prompted him to become a member of the party, Shastri, a former head of the Apple (West India), said he liked the "conviction" the party has.
Probed further whether he was keen to contest Lok Sabha elections on an AAP ticket or had applied for a party ticket, he said "if the party thinks, I will contest...I have not applied for any ticket".
Former IRS officer Jeetendra Kumar Shukla, senior Supreme Court lawyer Santosh Kumar, social entrepreneur Richa Pandey Mishra, 'Career Launcher' founder Satya Narayanan R also joined the party.