The actor launched the Paani Foundation, which has participation from businessmen like Mukesh Ambani, Ratan Tata, Kumar Mangalam Birla and others, reports Urvi Malvania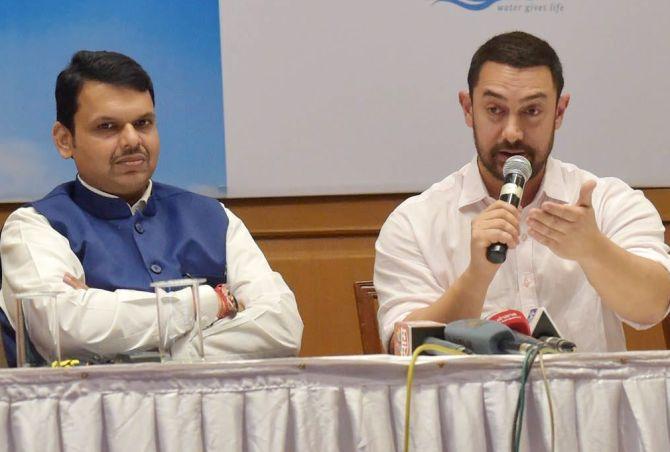 Aamir Khan and his wife Kiran Rao have launched the Paani Foundation, which will partner the Maharashtra government in its efforts to communicate and educate people at the grass root level about water conservation and watershed management. The foundation and the government announced the first initiative called the Satyamev Jayate Water Cup, a competition to popularise water conservation and watershed management in the rural areas of the state.
The foundation has the support of many corporates in the country with names like Ratan Tata, Mukesh Ambani, Kumar Mangalam Birla, Baba Kalyani, Rajiv Bajaj and Deepak Parekh figuring on the board of directors. Their respective corporates will be contributing to the foundation and its initiatives as part of their corporate social responsibility activities. Apart from corporates, Bollywood and sports personalities Rajkumar Hirani, Atul Kulkarni and Sachin Tendulkar are also part of the foundation.

The foundation is helmed by Satyajit Bhatkal, who is also the director of the television show Satyamev Jayate.

While the competition is called the Satyamev Jayate Water Cup, it functions irrespective of the television show aired on the Star India network and Doordarshan. "Star is the platform to get a show like Satyamev Jayate to the masses. We hope to rope in many more channels for the work that the Paani Foundation is doing. Not only Marathi channels, but general entertainment channels and news channels too. We will focus on the communication bit through any and all means available, including radio and digital," said Khan. There are plans to launch a mobile application as part of the initiative as well.

The show, which aired last in October 2014, on the Star Network, could be used as a vehicle to communicate the efforts of the Paani Foundation and applaud the achievements of individuals and groups working towards water conservation, said Khan.

Maharashtra chief minister Devendra Fadnavis said that the government's scheme Jalyukta Shivar Abhiyan could be integrated with the efforts of the Paani Foundation when the latter launches an app to educate and track the users on the progress of the initiatives.
Contrary to speculation, Khan will not be the brand ambassador of the campaign. Fadnavis added, "When Aamir first told me about his desire to work in water conservation efforts in Maharashtra, he made it clear he wasn't interested in becoming brand ambassador of the programme. He told me he was only interested in working on the ground and not in becoming the brand ambassador."
Under the Jalyukta Shivar project, the government planned water conservation projects 25,000 villages suffering drought. The first phase of the project covered 6,200 villages and the second phase, targeting another 5,000 drought-prone villages will be rolled soon.
Image: Actor Aamir Khan launches the Paani Foundation in the presence of Maharashtra Chief Minister Devendra Fadnavis. Photograph: PTI